Sometimes coming up with your best Tinder bios can feel like torture. It's like when you're at an interview and someone says, "So tell us a little bit about yourself." It's such a huge, broad question that it's hard to know how to answer or where to start. But it doesn't have to be so hard…
I've worked on dating apps for over five years and during that time I've written and given tons of advice to people who want to write thoughtful, genuine profiles that really show who they are.
Today I'm going to give you a bunch of Tinder profile tips that will help you write a fun, flirty dating profile as quickly as possible. Because, hey, I get it… Sometimes you just want to get it over with. And sometimes, in order to be effective, your profile doesn't have to be a work of art, it just needs to get the job done.
Here are some of the best Tinder bios along with some quick writing hacks to help you create a good profile, fast:
The Best Tinder Profiles That'll Bag You a Date
1. First and last profile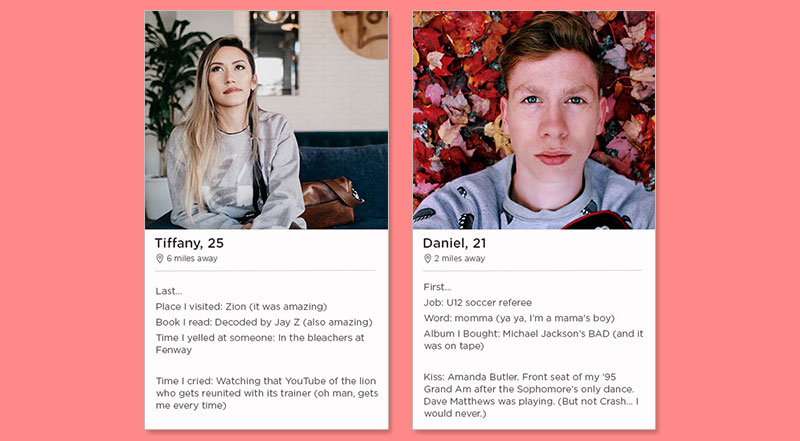 Here's a no fuss profile hack to try out—first and lasts. Let people know the last movie you saw, book you read, person you talked to, place you drove, or time you embarrassed yourself. It gives a fast but realistic view of who you are now. You can flip it too. Instead of saying lasts, get nostalgic instead and say your firsts—first date, first word, first job, or first car. The more specific and oddball the better.
Examples:

Daniel, 21
First…
Job: U12 soccer referee
Word: momma (ya ya, I'm a mama's boy)
Album I Bought: Michael Jackson's BAD (and it was on tape)
Kiss: Amanda Butler. Front seat of my '95 Grand Am after the Sophomore's only dance. Dave Matthews was playing. (But not Crash… I would never.)
Tiffany, 25
Last…
Place I visited: Zion (it was amazing)
Book I read: Decoded by Jay Z (also amazing)
Time I yelled at someone: In the bleachers at Fenway
Time I cried: Watching that YouTube of the lion who gets reunited with its trainer (oh man, gets me every time)
2. About Me/About You profile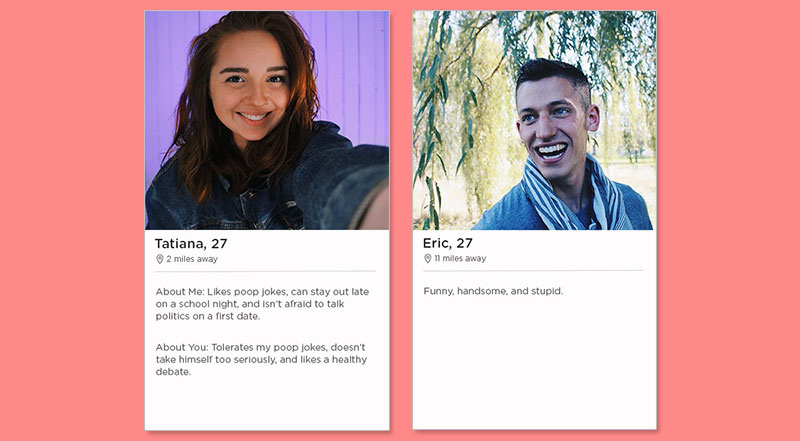 Quick, easy, and to the point—the About Me/About You profile is where you list details about yourself, coupled with details about the type of person you're into.
Examples:
Eric, 27
About Me: Likes fishing, gives great speeches at weddings, and plays a mean harmonica.
About You: Eats adventurously, likes road trips, can talk about books for hours.
Tatiana, 27
About Me: Likes poop jokes, can stay out late on a school night, and isn't afraid to talk politics on a first date.
About You: Tolerates my poop jokes, doesn't take himself too seriously, and likes a healthy debate.
3. Three simple things profile
Another list format to play around with is the three simple things profile. Just share three completely random things about yourself. And hey, you can even get a little braggy. You're allowed to talk yourself up a bit in your dating profile.
Examples:
Dan, 23
I love roller coasters but the pirate ship ride completely terrifies me.
I once backpacked around Lake Tahoe in 13 days.
When I was 14 I got a concussion swing dancing.
What about you?
Maria, 24
I hate flowers. You'll never have to buy me flowers. Potatoes chips however…
Not gonna lie, pretty good at pub trivia. I've even won the big money a couple times.
Guilty pleasures: neighborhood drama, fancy cupcakes, and binge watching Law & Order.
Dun duun!
4. Greater than/less than profile
Want to start more conversations from your Tinder bio? The greater than/less than trick might be for you. Simply list out sets of things you could debate with someone, and say which you think is better. This shows your personality but also gives a bunch of ready-to-go conversation topics that makes it easier for people to break the ice and send you a message after you match.
Examples:

Don, 30
tacos < burritos
Friday nights out > Thursday nights out
National league > American league
Radiolab > Serial
I'm just sayin'

Emily, 27
breakfast for dinner < pizza for breakfast
the movie > the book (so sue me)
sunrise < sunset
coffee > life
Your thoughts?
5. One smartass comment profile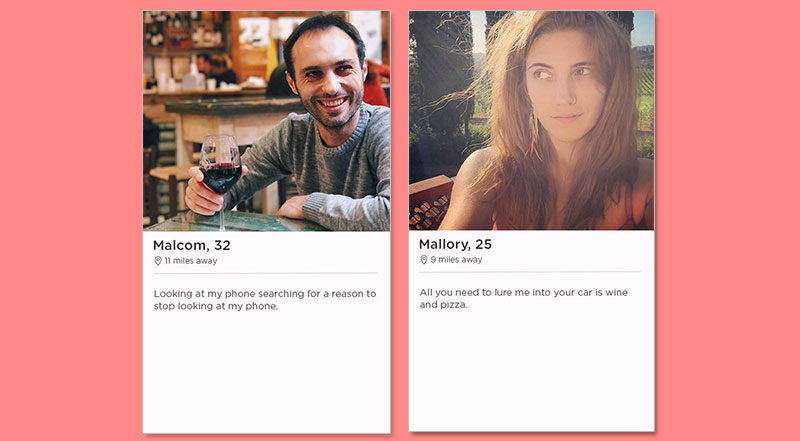 There's something intriguing about a profile with a single comment that catches attention. But writer beware, the single smartass comment profile can definitely backfire. It has to be good or you'll just come off as, well, a jackass instead of a smartass.
Examples:
Mallory, 25
All you need to lure me into your car is wine and pizza.
Eric, 27
Funny, handsome, and stupid.
Amy, 23
Dogs love me.
Malcolm, 32
Looking at my phone searching for a reason to stop looking at my phone.
Gina, 27
You can't play hard and work hard. If you say that, you're not doing either hard enough. (I don't work very hard.)
Meng, 25
Whisper sweet NPRs to me.
Talia, 34
I like my artsy with a little bit of fartsy.
6. Obscure references profile
Have a quote from a movie or TV show you love? A lyric from a song or an inside joke only someone who's into the same random stuff as you would know? Use it. It's fast, shows off your personality, and is an instant conversation starter.
Lily, 22
Last vacation was to see the basement of the Alamo. Wasn't what I thought it was going to be but I had a big adventure.
Ted, 26
I'm just a boy, standing in front of a bunch of people on an app, and asking them to love me.
Natalie, 29
The last guy who swiped left on me aged so quickly he shriveled up into an old man skeleton thing before he turned into dust and died a swift yet horrifying death.

He chose poorly.
Jeet, 27
I have many leather-bound books and my apartment smells of rich mahogany.
7. Fake reviews profile
Another trick you may have seen among the best Tinder bios is the fake reviews profile. Similar to book or movie blurbs ("Two thumbs up!") the fake review profile let's you share a bit about yourself and might just make someone crack a smile.
Amy, 24
I'm pretty great but don't listen to me, read my reviews:
"Amy is a hard working, conscientious student." – my 10th grade English teacher
"I'd highly recommend her for any position." – my first boss
"I laughed until I cried." – my ex boyfriend Dan (sorry Dan)
Jordan, 28
"This one's got real potential." – My 90+ next door neighbor
"Excellent incisors. And he flosses." – Dr. Dan, my dentist
"Better than a hallelujah" – Amy Grant
"He can make an Amy Grant reference, and still come off as masculine and authoritative. I don't know how he does it." – My good friend Abe
8. List of likes profile
This is probably the most common profile type, which may make it seem like a poor candidate for the best Tinder bios. However, if you add the right details and stay away from obvious things like hiking, traveling, and your friends, listing out your likes can be an effective way to get an awesome bio.
Jad, 31
The Discworld series, girls with glasses, playing hookie to go to a baseball game, and dinners with friends that end in late nights talking and laughing over a table strewn with the dirty dishes none of us are getting up to wash.
Toni, 26
Making fun of people who do crossfit, net-back hats, first runs, the first sip of beer after a long day, and coming home to my dog every night.

9. By day/by night profile
Nobody is any one thing. You aren't just a school teacher or an accountant, and you aren't just someone who likes to BBQ or play softball with your friends. The by day/by night profile is a way to show two sides of yourself, what you do for work and what you do for play. It's kind of like the mullet of dating profiles. Business in the front, party in the back.
Tim, 22
9th grade history teacher by day. Semi-pretentious craft beer aficionado by night.
Kaylee, 27
Product designer by day, cyberpunk and avant garde enthusiast by night.
Raul, 23
Management/marketing consultant by day, amature mixologist and professional cat cuddler by night.
Heather, 25
Software engineer by day, even bigger nerd by night. Love anime, board games (I kill at The Settlers of Catan), and obscure music nobody else seems to listen to.

For the best Tinder bios, remember that it goes along with your photos. If you've got a stellar set of photos that show who you are, your bio doesn't have to work so hard. And if you're having problems getting matches, you might want to take the time to make sure your description and your photos are on point. After all, when it comes to online dating, your profile is your first impression. Have fun with it, and make get started on creating your very best Tinder bios!
*The Date Mix is owned by Zoosk, Inc. Zoosk, Inc. is not affiliated, associated, authorized, endorsed by, or in any way officially connected with Tinder, or any of their subsidiaries or affiliates. Tinder is a registered trademark of their respective owners.