From a young age, we're taught that love is the most valuable thing in this world. Then, we graduate high school and work and career ambitions often become our main focus. As an adult, we spend most of our lives working and looking for love (and occasionally looking for love at work). But how do these two major forces that shape our lives overlap?
The online dating site and app Zoosk surveyed over 5,000 daters and collected information from over 8,800 different profiles and 163,054 messages to understand how our jobs affect our dating life.
Here are some of the highlights:
Are more dates a secret work perk for men with good jobs?
If you're a guy with a good career who's interested in woman, then you're in luck. A whopping 71% of women think that a good job or career makes their date more attractive. Men are pretty split on this however, with only 49% them agreeing that a good job makes a date more attractive.
And younger daters care more about each other's jobs than older daters—77% of Millennial women and 60% of Millennial men think that a good job increases the attractiveness of a date.

The vast majority of daters want someone who's career-driven…
87% of women and 75% of men say that dating someone who's focused on their career is important (with 18% and 9% respectively saying it's very important). And some cities have singles that are more career-driven than others.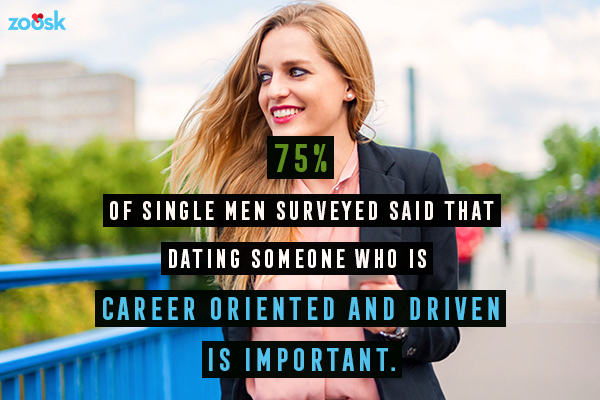 …but not a workaholic.
It really is all about balance. It's totally okay to have a little fire, but don't forget to chill out and take time away from work. 60% of singles say that they're not okay dating a workaholic and that they'd like to be the priority in their partner's life. And and overwhelming 97% of singles said that having a work-life balance is important to them.
Top Ten States Where Singles are Career-Driven:

Delaware – 92%
Nebraska – 90%
New Hampshire – 87%
North Dakota – 87%
Alabama – 87%
Alaska – 87%
Tennessee – 86%
Hawaii – 86%
New Jersey – 85%
Maine – 85%
The results for sexiest work uniform are in and the winner is:
Men in uniform score a spicy jalapeño on the hotness scale—look out firefighters. To the lawyers, doctors, and nurses out there: all those years in schools weren't just for a big paycheck—the dates are coming in spades for you, too.
| | |
| --- | --- |
| Women | Men |
| Nurse | Firefighter |
| Flight Attendant | Lawyer |
| Librarian | Doctor |
| Lawyer | Police Officer |
| Personal Trainer | Soldier |

Office romance: hot or not
In every new job training, we're told that love and work should be kept separate. Of course, we also know that this doesn't necessarily always play out in practice and that a lot of people meet and fall in love at work.
On the topic of office romance, there's some disagreement between men and women—63% of men were okay with consensual office romance, while only 45% of women felt the same. And women's opinions differed a lot from generation to generation too. 74% of women in Generation Z approved of office romance, but that dropped with only 58% of Millenial women approving, 45% of Gen Xers, and 41% of Baby Boomers.
20% of singles admit to sexting on the job.
Online dating has given daters the power to meet millions of people anywhere and everywhere they have access to internet. Incidentally, that also means at work. 73% of singles admitted to checking their dating apps at work and 20% even admitted to sexting at work before. That's a lot of people finding love on the job.
74% of women prefer men who make more money than them.
Until recently, most households were single income, but no longer. Now, men and women alike are often career-driven and passionate. Still though, when looking for a romantic partner, especially for the long-term, the money question always comes into focus. We asked Zoosk singles their preference in the relative income of their preferred partners. 74% of women said that they like dating someone who makes more money than them with 14% they preferred someone who makes significantly more money. Only 27% of men preferred dating someone who made more money than them.
Hot words equal a hot date.
We scanned 417,607 profiles and found that mentioning the following job-related buzzwords increases inbound messaging rates:
| | |
| --- | --- |
| Buzzword | Increased Response Rate |
| Designer | 78% |
| Entrepreneur | 59% |
| Architect | 42% |
| Coach | 41% |
| Teacher | 40% |
| Ambitious | 38% |
| Accountant | 30% |
| Doctor | 28% |
| Student | 26% |
| Firefighter | 25% |
| HR | 25% |
| Nurse | 24% |
| Officer | 24% |
| Chemist | 23% |
| Musician | 22% |
| Manager | 21% |
| Artist | 11% |
| PR | 11% |
| Chef | 10% |
| Professional | 9% |
| Cook | 6% |
| Engineer | 4% |
Well, that's about it. Everything from careers to sexting at work—it's all there. Now, get out there and find the firefighter to put that heat out in your heart.