Maybe it happens after running through an airport; while standing in the rain; at a big family dinner; or in front of the whole class, office, or press conference… Wherever or however it happens, we all know that moment in a book, movie, or TV show, because it's the one we've been waiting for. It's the moment everything has been building up to—the inevitable declaration of love.
The 'I love you' moment comes in many different shapes and sizes. Sometimes it's funny, sometimes it's sad, sometimes it melts your heart and other times it makes you tear up. (Admit it, just a little.) But it's always romantic.
So for those of you who live for those swoon-worthy moments where one character puts it all on the line, here's a collection of some of the best declarations of love. From the long speeches to the one-liners, you'll find something to make you sigh and maybe even inspire your own declarations.
1. Harry's New Years' Eve Speech
from "When Harry Met Sally"
I love that you get cold when it's 71 degrees out. I love that it takes you an hour and a half to order a sandwich. I love that you get a little crinkle above your nose when you're looking at me like I'm nuts. I love that after I spend the day with you, I can still smell your perfume on my clothes. And I love that you are the last person I want to talk to before I go to sleep at night. And it's not because I'm lonely, and it's not because it's New Year's Eve. I came here tonight because when you realize you want to spend the rest of your life with somebody, you want the rest of your life to start as soon as possible.
2. Henry Miller's Intense Confession to Anaïs Nin
from his August 14, 1932 love letter
Anais, I only thought I loved you before; it was nothing like this certainty that's in me now. Was all this so wonderful only because it was brief and stolen? Were we acting for each other, to each other? Was I less I, or more I, and you less or more you? Is it madness to believe that this could go on? When and where would the drab moments begin? I study you so much to discover the possible flaws, the weak points, the danger zones. I don't find them—not any. That means I am in love, blind, blind. To be blind forever!
3. John Thornton's Declaration to Margaret Hale
from "North and South" by Elizabeth Gaskell
'I choose to believe that I owe my very life to you—ay—smile, and think it an exaggeration if you will. I believe it, because it adds a value to that life to think—oh, Miss Hale!.. to think circumstance so wrought, that whenever I exult in existence henceforward, I may say to myself, 'All this gladness in life, all honest pride in doing my work in the world, all this keen sense of being, I owe to her!' And it doubles the gladness, it makes the pride glow, it sharpens the sense of existence till I hardly know if it is pain or pleasure, to think that I owe it to one—nay, you must, you shall hear'—said he, stepping forwards with stern determination—'to one whom I love, as I do not believe man ever loved woman before.
4. Jerry's Living Room Speech
from "Jerry Mcguire"
Hello? Hello. I'm lookin' for my wife. Wait. Okay… okay… okay. If this is where it has to happen, then this is where it has to happen. I'm not letting you get rid of me. How about that? This used to be my specialty. You know, I was good in a living room. They'd send me in there, and I'd do it alone. And now I just… But tonight, our little project, our company had a very big night—a very, very big night. But it wasn't complete, wasn't nearly close to being in the same vicinity as complete, because I couldn't share it with you. I couldn't hear your voice or laugh about it with you. I miss my… I miss my wife. We live in a cynical world, a cynical world, and we work in a business of tough competitors. I love you. You complete me.
5. Darius's Urgency
from "Love Jones"
Let me tell you somethin'. This here, right now, at this very moment, is all that matters to me. I love you. That's urgent like a motherfucker.
6. Gilbert's Sweet Admission to Anne
from "Anne of the Island" (Anne of Green Gables #3) by L.M. Montgomery
I have a dream… I persist in dreaming it, although it has often seemed to me that it could never come true. I dream of a home with a hearth-fire in it, a cat and dog, the footsteps of friends—and you!
7. Noah's Outburst by the Car
from "The Notebook"
It's not gonna be easy. It's gonna be really hard. We're gonna have to work at this every day, but I want to do that because I want you. I want all of you, forever, you and me, every day. Will you do something for me, please? Just picture your life for me? 30 years from now, 40 years from now? What's it look like? If it's with him, go. Go! I lost you once, I think I can do it again. If I thought that's what you really wanted. But don't you take the easy way out.
7. Jack Gets Honest
from "Brokeback Mountain"
Tell you what, we coulda had a good life together! Fuckin' real good life! Had us a place of our own. But you didn't want it, Ennis! So what we got now is Brokeback Mountain! Everything's built on that! That's all we got, boy, fuckin' all. So I hope you know that, even if you don't never know the rest! You count the damn few times we have been together in nearly twenty years and you measure the short fucking leash you keep me on—and then you ask me about Mexico and tell me you'll kill me for needing somethin' I don't hardly never get. You have no idea how bad it gets! I'm not you… I can't make it on a coupla high-altitude fucks once or twice a year! You are too much for me Ennis, you sonofawhoreson bitch! I wish I knew how to quit you.
8. Mr. Rochester's Speech
from "Jane Eyre" by Charlotte Brontë
I have for the first time found what I can truly love—I have found you. You are my sympathy—my better self—my good angel; I am bound to you with a strong attachment. I think you good, gifted, lovely: a fervent, a solemn passion is conceived in my heart; it leans to you, draws you to my center and spring of life, wraps my existence about you – and, kindling in pure, powerful flame, fuses you and me in one.
9. The Hour in the Boathouse
from "A Fisherman of the Inland Sea" by Ursula Le Guin
I found out I was in love with you, winter before last… I wasn't going to say anything about it because—well, you know. If you'd felt anything like that for me, you'd have known I did. But it wasn't both of us. So there was no good in it. But then, when you told us you're leaving… At first I thought, all the more reason to say nothing. But then I thought, that wouldn't be fair. To me, partly. Love has a right to be spoken. And you have a right to know that somebody loves you. That somebody has loved you, could love you. We all need to know that. Maybe it's what we need most. So I wanted to tell you. And because I was afraid I was afraid you thought I'd kept away from you because I didn't love you, or care about you, you know. It might have looked like that. But it wasn't that.
10. J.D.'s Confession
from "Scrubs"
Look Elliot, every year we bounce around this thing, and I never had the courage to stand up and tell you how I feel: I'm crazy about you, and I want you to know if I had the choice of hanging out with anyone in the entire world or sitting at home with you eating pizza and watching a crappy TV show, I'll choose you every time.
11. Captain Frederick Wentworth's Declaration
from "Persuasion" by Jane Austen
I can listen no longer in silence. I must speak to you by such means as are within my reach. You pierce my soul. I am half agony, half hope. Tell me not that I am too late, that such precious feelings are gone for ever. I offer myself to you again with a heart even more your own than when you almost broke it, eight years and a half ago. Dare not say that man forgets sooner than woman, that his love has an earlier death. I have loved none but you.
12. Augustus' Shout Into the Void
from "The Fault in Our Stars" by John Green
I'm in love with you, and I'm not in the business of denying myself the simple pleasure of saying true things. I'm in love with you, and I know that love is just a shout into the void, and that oblivion is inevitable, and that we're all doomed and that there will come a day when all our labor has been returned to dust, and I know the sun will swallow the only earth we'll ever have, and I am in love with you.
13. Mark Darcy's Just as You Are
from "Bridget Jones' Diary" by Helen Fielding
I don't think you're an idiot at all. I mean, there are elements of the ridiculous about you. Your mother's pretty interesting. And you really are an appallingly bad public speaker. And, um, you tend to let whatever's in your head come out of your mouth without much consideration of the consequences… But the thing is, um, what I'm trying to say, very inarticulately, is that, um, in fact, perhaps despite appearances, I like you, very much. Just as you are.
14. Meredith's Choose Me Speech
from "Grey's Anatomy"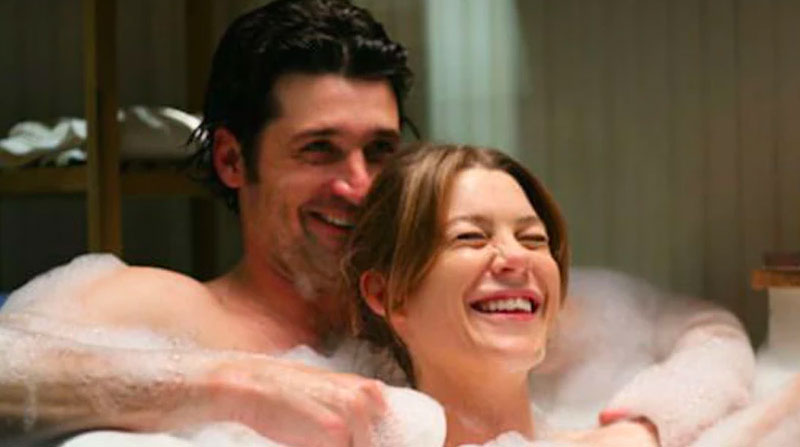 Okay, here it is. Your choice, it's simple, her or me. And I'm sure she's really great. But Derek, I love you. In a really, big really big pretend to like your taste in music, let you eat the last piece of cheesecake, hold a radio over my head outside your bedroom window, unfortunate way that makes me hate you… love you. So pick me. Choose me. Love me.
15. Valmont's Defense
from "Dangerous Liaisons" by Christopher Hampton
(based on his play that was based on the novel by Choderlos de Laclos)
Now, I'm not going to deny that I was aware of your beauty. But the point is, this has nothing to do with your beauty. As I got to know you, I began to realize that beauty was the least of your qualities. I became fascinated by your goodness. I was drawn in by it. I didn't understand what was happening to me. And it was only when I began to feel actual, physical pain every time you left the room that it finally dawned on me: I was in love, for the first time in my life. I knew it was hopeless, but that didn't matter to me. And it's not that I want to have you. All I want is to deserve you. Tell me what to do. Show me how to behave. I'll do anything you say.
16. Aaron's Anti-Tom Speech
from "Broadcast News"
And if things had gone differently for me tonight then I probably wouldn't be saying any of this. I grant you everything. But give me this: he personifies everything that you've been fighting against. And I'm in love with you. How do you like that? I buried the lead.
17. Melvin's Sidewalk Compliment
from "As Good As It Gets"
I might be the only person on the face of the earth that knows you're the greatest woman on earth. I might be the only one who appreciates how amazing you are in every single thing that you do, and how you are with Spencer, "Spence," and in every single thought that you have, and how you say what you mean, and how you almost always mean something that's all about being straight and good. I think most people miss that about you, and I watch them, wondering how they can watch you bring their food, and clear their tables and never get that they just met the greatest woman alive. And the fact that I get it makes me feel good, about me.
18. Lucus' Rain Speech
from "One Tree Hill"
Because, you kink your eyebrow when you're trying to be cute. Because you quote Camus even though I've never actually seen you read. Because you miss your parents, but you'll never ever admit that! And because I've given exactly two of these embarrassing speeches in my life, and they've both been with you. I mean, that's gotta mean something right?! And because we're both gonna get pneumonia, but if you need to hear why I love you, I can go on all night.
19. Westley's As You Wish Confession
from "The Princess Bride" by William Golding
Do I love you? My God, if your love were a grain of sand, mine would be a universe of beaches… I have stayed these years in my hovel because of you. I have taught myself languages because of you. I have made my body strong because I thought you might be pleased by a strong body. I have lived my life with only the prayer that some sudden dawn you might glance in my direction. I have not known a moment in years when the sight of you did not send my heart careening against my rib cage. I have not known a night when your visage did not accompany me to sleep. There has not been a morning when you did not flutter behind my waking eyelids… I love you. Okay? Want it louder? I love you. Spell it out, should I? I ell-oh-vee-ee why-oh-you. Want it backward? You love I… I've been saying it so long to you, you just wouldn't listen. Every time you said, 'Farm Boy, do this', you thought I was answering, 'As you wish', but that's only because you were hearing wrong. 'I love you' was what it was, but you never heard.