It's Done: Less than two years after walking down the aisle, Kaley Cuoco has filed for divorce from her husband, Ryan Sweeting. The Big Bang Theory actress cited "irreconcilable differences" in the divorce documents, and now sources are saying Sweeting's addiction to painkillers is to blame. After the couple wed back in 2013, the tennis player quickly developed an addiction to painkillers after suffering from a back injury. A source said, "Kaley told friends doctors prescribed something that he was taking too much of. That is when it went downhill again." By the time Sweeting agreed to go to rehab, it was too late for the marriage to be saved. But apparently Kaley isn't giving up on love. An insider added, "Kaley is still a hopeless romantic. She will find love again."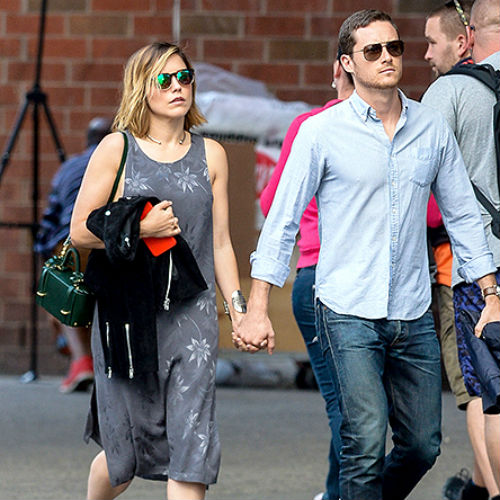 Rekindling Romance: Looks like Chicago PD co-stars, Sophia Bush and Jesse Lee Soffer, are cozying up again. The stars, whose on-screen personas hooked up in Season Two, were spotted holding hands in New York City over the weekend. The actors began dating for a year after meeting in 2014, but reportedly broke up last June. However, if their recent hand-holding is any indication, it looks like things might be back on for the twosome. At least things will be less awkward at work!
Heartbroken: Looks like Amanda Seyfried just wasn't into Justin Long — at least not for the 'long' haul anyway. After more than two years, the couple have decided to go their separate ways. "It happened a few weeks ago," a source close to the couple told Us Weekly. "He's really heartbroken." Gossip mongers report that Long wanted to settle down and get married, while Seyfried couldn't make that kind of commitment. Another source says their relationship has been quietly unraveling for some time. "They had different schedules and different lives," explains the source. "They just grew apart." The couple have a unique backstory having "met" on Instagram in 2013. "I thought something he said was really funny," Seyfried revealed to Vogue in May. "It was a beautiful picture of a snail, and the caption said, 'F——g MOOOOOOOOVE.' It made me laugh out loud, so I texted him." Perhaps they'll have better luck on Twitter next?
Just Hooking Up: Kate Hudson and Nick Jonas turned some heads last week when they were spotted spending last weekend together in Florida. The attractive pair were first caught having fun at Disney World and then Hudson was later seen attending Jonas's concert that night at the House of Blues in Orlando. Coincidentally — or not — they were photographed having brunch together the next morning. Sources say the two are definitely "not dating", but just hooking up. This is when we point out that Hudson is 36 years old, while Jonas just turned 23, proving that age is just a number when it comes to matters of the heart. And loins.
Happy Anniversary: After a lavish wedding last year in Venice, Italy, George and Amal Clooney celebrated their first wedding anniversary rather quietly. "I had to start off by (attending) a Jerry Weintraub event… and then afterwards she and I got to sneak out and have a dinner," the Oscar-winning actor told Extra. The reporter chided Clooney's low-key approach to the celebration, but the star said, "You know sometimes you just go to dinner. This is the paper anniversary you don't want to go too crazy on the first, you know, you've got a lot more to do." And we're sure whichever paper Clooney bought for his wife was the sexiest paper ever.
Photos by: US Magazine, In Touch Weekly, Pop Sugar, Hello! Magazine