Breakups can do something odd to you. Even though they're a common enough occurrence and most, if not all, of us have experienced multiple breakups in our lifetime, each one feels new and different. If, like Tostoy says, happy families are all alike and every unhappy family is unhappy in its own way, then perhaps all happy couples are alike and every unhappy couple is unhappy in their own way.
This is why every breakup feels so different. Because they are. During some you may feel elated and free, others may leave you feeling lost and untethered, while others leave you feeling a sort of grief—a loss for what you had and what was. And when you're feeling this way it often helps to hear of other's experiences and to see your pain and feelings (even if it's just confusing) reflected in their words.
To help you through your breakup and to give you some words you can relate to, we compiled a list of over 70 breakup lyrics from various breakup songs. From the bittersweet and reflective to strong and generous, you'll find a variety of lyrics from different artists to help you get through your own breakup. And hopefully move on to something stronger.
I don't know why I cry
But I think it's 'cause I remembered for the first time
Since I hated you
That I used to love you
– Used to Love You, Gwen Stefani
I keep letting you back in
How can I explain myself?
As painful as this thing has been
I just can't be with no one else.
– Ex Factor, Lauren Hill
Didn't I make you feel
Like you were the only man?
Didn't I give you everything
A woman possibly can?
Honey, you know I did.
– Piece of My Heart, Janis Joplin
Oh, you made me want you
You made me need you
You made me tumble and fall
But if I can't have you
The way I want you
I don't want you at all.
– That's It, I Quit, I'm Moving On, Sam Cooke
Every second I'm with you
I get increasingly sick and I stop thinking quick
And I act like a dick, like a dick, like a dick
And all the money I spend is my money again
I'll understand what is said when I'm out with my friends
And at the end of the night
Baby, I'm'a gon' drive 'em home
– I Don't Love You Anymore, Bomb the Music Industry!
He called me baby, baby
All night long.
Lord, I feel so empty
Since he's been gone.
Now I lie here and I die here
Until the dawn.
I miss my baby, baby, baby
All night long.
– He Called Me Baby, Candi Stanton
Dude I'm so over you
You don't even have a clue
All you did was make me blue
You didn't even make me, come on!
– Come On, Lucinda Williams
Now baby girl have dumped me
She no longer wants me
I'm no longer hired
She says that I've been fired
On to the next one
More fish in the sea
Girls are like buses
Miss one, Next 15 one comin'
– Break Up, Mario
I ain't sayin' you treated me unkind
You could have done better but I don't mind
You just kinda wasted my precious time
But don't think twice, it's all right
– Don't Think Twice, Bob Dylan
One taught me love
One taught me patience
And one taught me pain
Now, I'm so amazing
– thank u, next, Ariana Grande
If only there could be
Another way to do this
'Cause it feels like murder
To put your heart through this
I know I always said
That I could never hurt you
Well, this is the very, very last time
I'm ever going to
– Eventually, Tame Impala
It was hard to love a man like you
Goodbye was half the words you knew
While you was waiting for me not to call
I sent my love, I sent my love.
– Hard to Love a Man, Magnolia Electric Co.
There's been some things that I wanted to say a long time
Never have I spent a day without you on my mind
And I've tried a lotta songs and I need to try one that's new
But I don't have anymore love songs to try on you.
– (I Don't Have) Anymore Love Songs, Hank Williams, Jr.
Watch the steps
Get a drink, have a good time now
Welcome to paradise, paradise, paradise
Since I left you
I found the world so new
– Since I Left You, The Avalanches
I'm sorry for honesty, I could not bear
To lie to you
To lie with you
I'm sorry for honesty, I'm well aware
I lie to you
When I lie with you
You
Don't do it for me anymore
– You Don't Do It for Me Anymore, Demi Lovato
Goodbye my lover.
Goodbye my friend.
You have been the one.
You have been the one for me.
– Goodbye My Lover, James Blunt
You want to jump and dance,
but you sat on your hands
And lost your only chance
Go back to your hometown,
get your feet on the ground
And stop floating around
– Gone for Good, The Shins
Since he left my life's so empty
Though I try to forget it just can't be done
Each time the doorbell rings I still run.
– One Less Bell to Answer, The 5th Dimension
I follow you down until the sound
Of my voice will haunt you
(Give me just a chance)
You'll never get away from the sound
Of the woman who loves you
(Was I just a fool)
– Silver Springs, Fleetwood Mac
After all of the stealing and cheating you probably think that
I hold resentment for you
But uh uh, oh no, you're wrong
'Cause if it wasn't for all that you tried to do, I wouldn't know
Just how capable I am to pull through
So I want to say thank you
– Fighter, Christina Aguilera
This is the last song that I write while still in love with you
This is the last song that I write while you're even on my mind
'cause it's time to leave those feelings behind.
– Blue Skies, Noah and the Whale
The scars of your love remind me of us
They keep me thinking that we almost had it all.
The scars of your love they leave me breathless,
I can't help feeling, we could have had it all.
– Rolling in the Deep, Adele
You don't wanna give and you don't wanna know how
If you were gonna change things, you would've by now
When were you around? Where were you at?
Trying not think about it, baby
Running up and down the stairs
'Til there's nothing left between us but what we won't say
Walking away, walking away, walking away
– Walking Away, HAIM
(I gotta shake you off)
'Cause the loving ain't the same and you keep on playing games
Like you know I'm here to stay
(I gotta shake, shake you off)
– Shake It Off, Mariah Carey
I wanna hear your band;
I wanna give it advice;
I wanna meet your girlfriend, she sounds nice;
I wanna take you home;
I wanna feel my age;
I wanna freak you out on a different stage;
I wanna show my teeth;
I wanna keep you fed;
I wanna get you drunk and let it go to your head
So I guess this means we can't be friends.
– We Can't Be Friends, Loren Scafaria
Before this river
Becomes an ocean
Before you throw my heart back on the floor
Oh baby I reconsider
My foolish notion
Well I need someone to hold me
But I wait for something more
Yes I've gotta have faith
– Faith, George Michael
And every time I've held a rose
It seems I only felt the thorns
And so it goes, and so it goes
And so will you soon I suppose
– And So It Goes, Billie Joel
Have a seat, have a drink, tell the jury what you think
Was I good to you?
Was it hell, was it fun, did you think I was the one
Was I glued to you?
Now that I found someone who makes me wanna live
Does that make my leaving harder to forgive?
– How to Forget, Jason Isbell
I would rather, I would rather go blind boy
Than to see you, walk away from me child.
So you see, I love you so much
That I don't want to watch you leave me baby.
Most of all, I just don't, I just don't want to be free.
– I'd Rather Go Blind, Etta James
Show me something, all or nothing
You keep on changing your mind
I can't chase it, I can't take it
Only a matter of time
'Til you're crawling on your knees
Begging pretty please
You think it's funny keeping me wanting
And that's why
(I really fucking hate you)
– Hate You, Kate Nash
Please don't say you love me
Leave me, don't fuck with my mind
Try to understand like you're a good friend of mine
Cause I'm doing fine, yes I am
I'm doing…
– Doin Fine, The Heavy
Sometimes I cry so hard from pleading
So sick and tired of all the needless beating
But baby when they knock you
Down and out
It's where you oughta stay
– I Don't Love You, My Chemical Romance
Sunshine, blue skies, please go away
A girl has found another and gone away
With her went my future, my life is filled with gloom
So day after day I stay locked up in my room
I know to you, it might sound strange
But I wish it would rain.
– I Wish It Would Rain, The Temptations
In my life
Why do I give valuable time
To people who don't care if I live or die?
– Heaven Knows I'm Miserable Now, The Smiths
Now I'm feeling how I should, never knew single could feel this good, oh
Stop playing miss understood, back in the game, who knew I would, oh
So flex how I spread my wings, loving myself makes me wanna sing, oh
Oh yeah, yeah, yeah, yeah, yeah
– Ridin' Solo, Jason Derulo
As I walk this land with broken dreams
I have visions of many things
But happiness is just an illusion
Filled with sadness and confusion.
– What Becomes of the Brokenhearted, Jimmy Ruffin
Now oh so easily you're over me
Gone is love
It's me that ought to be moving on
You're not adorable
I want something unignorable
– Shut Up and Let Me Go, The Ting Tings
Ever since I met you my life's been a song
A sad song, a love song with hate in between
– Sound of Your Memory, Willie and Lukas Nelson
Oh, how am I gonna get over you?
I'll be alright, just not tonight
Someday, hey oh, I wish you'd want me to stay
I'll be alright, just not tonight
– Gonna Get Over You, Sara Bareilles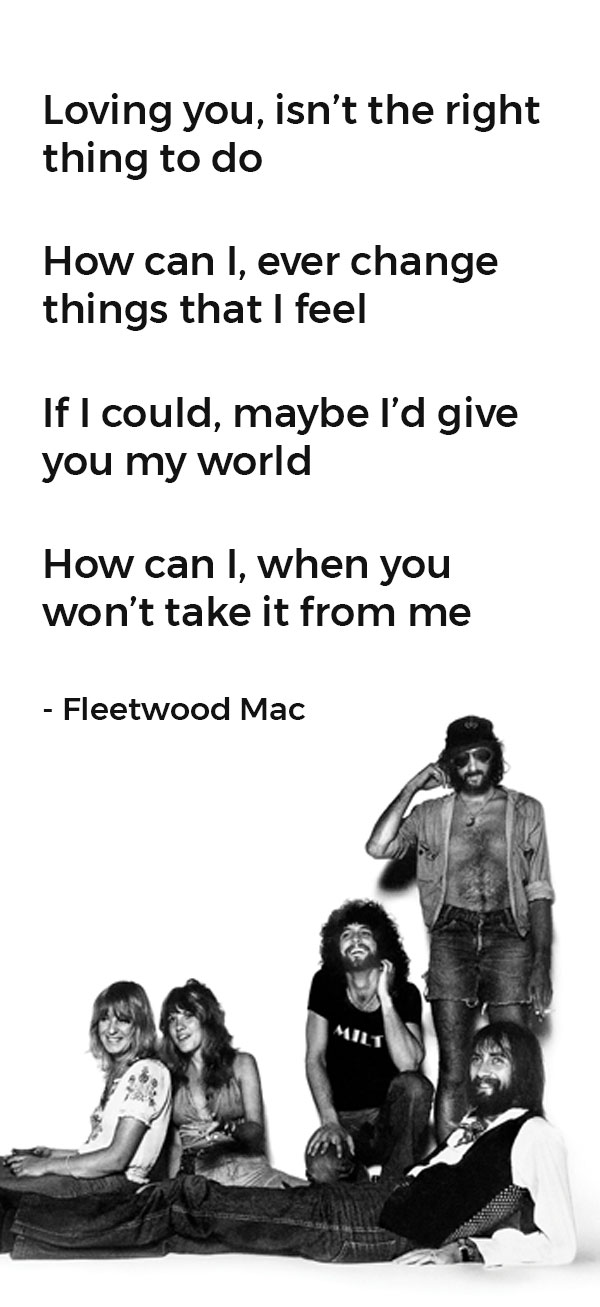 Loving you
Isn't the right thing to do
How can I ever change things
That I feel
If I could
Maybe I'd give you my world
How can I
When you won't take it from me
– Go Your Own Way, Fleetwood Mac
But If you loved me
Why did you leave me
Take my body
Take my body
All I want is
All I need is
To find somebody
I'll find somebody
– All I Want, Kodaline
No more I love you's
The language is leaving me
No more I love you's
The language is leaving me in silence
No more I love you's
Changes are shifting
Outside the words
– No More "I Love You's", Annie Lennox
There's a scar on my soul
So let me down easy
Break my heat sweetly
Like you always do.
– Break My Heart Sweetly, John Moreland
Drowning in my coffee
To wash the alcohol
Out my bloodstream
Sitting here I wonder
If we hadn't been at all
Who would I be?
– Getting Over You, Lauv
I was all right for awhile
I could smile for awhile
But I saw you last night
You held my hand so tight
As you stopped to say, Hello
– Crying, Roy Orbison
Cut the cord
Is that a man I once adored?
He's nothing but an albatross
No great loss
Doublecrosser
– Forget About the Boy, from Thoroughly Modern Millie
And you got away, didn't you babe,
You just turned your back on the crowd
You got away, I never once heard you say,
I need you, I don't need you
I need you, I don't need you
And all of that jiving around
– Chelsea Hotel #2, Leonard Cohen
Sometimes I wake up crying at night
And sometimes I scream out your name
What right does she have to take you away
When for so long you were mine
– You Were Mine, Dixie Chicks
Why she had to go I don't know she wouldn't say
I said something wrong, now I long for yesterday.
– Yesterday, The Beatles
Don't call me up
I'm going out tonight
Feeling good now you're outta my life
Don't wanna talk about us
Gotta leave it behind
One drink and you're outta my mind
– Don't Call Me Up, Mabel
You want me to act like we've never kissed
You want me to forget
Pretend we've never met.
And I've tried and I've tried
But I haven't yet.
– I Fall to Pieces, Patsy Cline
The judges will decide
The likes of me abide
Spectators of the show
Always staying low
The game is on again
A lover or a friend
A big thing or a small
The winner takes it all.
– The Winner Takes It All, ABBA
I won't die this way,
got a broken heart 'bout ready to escape
and a mouth full of bitterness I can taste it still
I wonder if you hate me now
– Glendale, Clans
And don't call me up at 3 in the morning
If she didn't pick up and I'm your second choice
'Cause I know you're drunk, your love is a hoax
And I hate the fact that I still recognize your voice
– Darling Don't, Silver
But since you been gone
I can breathe for the first time
I'm so moving on
Yeah, yeah
Thanks to you
Now I get what I want
Since you been gone
– Since U Been Gone, Kelly Clarkson
Feel so restless, I am,
Beat my head against a pole
Try to knock some sense,
down in my bones.
– You Can't Put Your Arms Around a Memory, Johnny Thunders
I remember you telling me, that you would love me and treat me tenderly.
But all you've ever given is just plain misery.
– To Hear You Say You're Mine, Candi Staton
Well, I learned that I don't need you
And I don't need you around
'Cause I've found somebody new, somebody new
I said I learned that I do not need you
I don't want you around
Like I said, I've found somebody new
– I Don't Need You Around, Jackie Wilson
You're on a different road, I'm in the milky way
You want me down on earth, but I am up in space
You're so damn hard to please, we gotta kill this switch
You're from the 70s, but I'm a 90s bitch
I love it, I love it
– I Love It, Icona Pop
Maybe the darkness of the hour
Makes me seem lonelier than I am,
But over the darkness I have no power,
Hope she'll be happier with him.
– Hope She'll Be Happier, Bill Withers
Moving without you, moving without you
Loving without you, loving without you
Happy without you, happy without you, happy without you
Better without you, better without you, better without you
– Better Without You, Kelly Rowland
Now laughing friends deride
Tears I cannot hide
So I smile and say
When a lovely flame dies,
smoke gets in your eyes.
– Smoke Gets in Your Eyes, The Platters
I hope you know, I hope you know
That this has nothing to do with you
It's personal, myself and I
We've got some straightenin' out to do
– Big Girls Don't Cry, Fergie
I got no place left to turn
I got nothin' left to burn
Don't know if I saw you if I would kiss you or kill you
It probably wouldn't matter to you anyhow
– Standing In the Doorway, Bob Dylan
It must have been love but it's over now
It must have been good but I lost it somehow
– It Must Have Been Love, Roxette
If the phone doesn't ring
You'll know that it's me
I'll be out in the eye of the storm
If the phone doesn't ring
You'll know that I'll be
Where someone can make me feel warm
It's too bad we can't turn
And live in the past
– If the Phone Doesn't Ring, It's Me, Jimmy Buffett
He walks away
The sun goes down
He takes the day, but I'm grown
And in your way
In this blue shade
My tears dry on their own
– Tears Try on Their Own, Amy Winehouse
I got it bad
I think you know
You're everything, you're beautiful
But my life is fast, can't make it slow
We're here right now
Kiss me before I go, but you got to let me go
– Bet Ain't Worth the Hand, Leon Bridges
When I'm not drinking baby, you are on my mind.
When I'm not sleeping you know you'll find me crying.
– Lover You Should've Come Over, Jackson C. Frank
And I'm done hoping
That we could work it out
I'm done with how it feels,
Spinning my wheels
Letting you drag my heart around
And, oh, I'm done thinking
You could ever change
I know my heart will never be the same
But I'm telling myself I'll be okay
Even on my weakest days
I get a little bit stronger
– A Little Bit Stronger, Sara Evans
And the grass it was a ticking
And the sun was on the rise
I never felt so wicked
As when I willed our love to die
And I was your silver lining as the story goes
I was your silver lining but now I'm gold
Hooray hooray I'm your silver lining
Hooray hooray but now I'm gold
– Silver Lining, Rilo Kiley
You roll out of bed and down on your knees
And for a moment you can hardly breathe
Wondering was she really here
Is she standing in my room?
No, she's not
'Cause she's gone, gone, gone, gone, gone.
– Dreaming with a Broken Heart, John Mayer
Who's gonna walk you through the dark side of the morning?
Who's gonna rock you when the sun won't let you sleep?
Who's waking up to drive you home when you're drunk and all alone?
Who's gonna walk you through the dark side of the morning?
It ain't me
– It Aint Me, Kygo and Selena Gomez
We use to kiss all night but now there's just no use
I don't know why I fight it, clearly we are through
Tell me the truth boy, am I losing you for good?
– Losing You, Solange
'Cause you brought the flames and you put me through hell
I had to learn how to fight for myself
And we both know all the truth I could tell
I'll just say this is "I wish you farewell"
I hope you're somewhere prayin', prayin'
I hope your soul is changin', changin'
I hope you find your peace
Falling on your knees, prayin'
– Praying, Kesha