There's no time like winter time. Winter gives us plenty of occasions to spend quality time with friends and family, reasons to enjoy great food and drinks (and wear puffy jackets to hide those extra pounds), and excuses to snuggle up with someone special.
If you're single and want to get close to someone new, or if you're in a relationship and want to freshen up date night, here are our top 10 winter date recommendations:
10. A Ski Lesson for Two
Research shows that physical activities make people feel more bonded to each other. And I can't think of a better winter physical activity than skiing. Take a private ski lesson for two. Maybe you'll fall head over feet in more ways than one. If the slopes aren't as easily accessible where you live, try ice skating. It's also a less expensive option that will get you bonding in no time.
9. Take a Fun Workshop or Class
The new year is the perfect time to learn something new. There are so many workshops, like screen printing, ceramics, soap making, glass blowing, chocolate making, etc. that make for fun experiential dates. They can also lead to a shared new hobby, which you can enjoy for many years to come. Pro tip: Check Groupon or Airbnb Experiences to see what kind of classes or workshops are available in your area.
8. Sit by a Crackling Fire
About 400,000 years ago, humans learned to fully control fire, which extended the day, and allowed people to unleash their imaginations and tell stories. So, why not take a cue from our ancestors by lighting a match, striking up a conversation, and letting the sparks fly? Bonus: If you drink alcohol, try pairing the evening with a nice red. Pinot Noirs, Syrahs, and Merlots make for great fireplace wines because they have earthy and smoky notes and bright fruit flavors.
7. Visit a Museum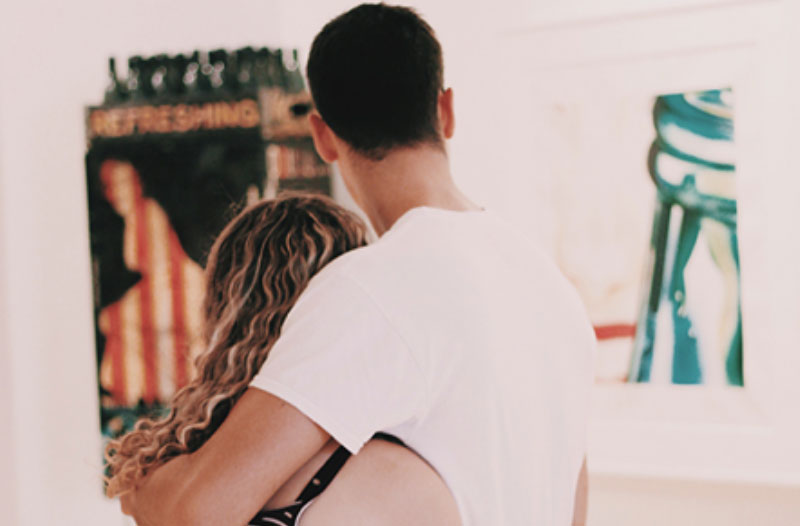 Observations are great for conversations. And what better place to observe interesting things than a museum? Find a museum in your area with a limited-time exhibit and take your date there. While you'll both be able to learn and appreciate something new, you'll also be able to connect over art you love, which is quite romantic. Bonus: You can continue your conversation over a nice cappuccino at the museum café after.
6. Build a Snowman
Who said building a snowman is child's play? Show off your snowman building skills on the next snow day. Bonus: Create snow art, make snow angels, and have a snowball fight while you enjoy a day in the snow. If you live someplace where it doesn't snow, hit the beach and make a sandcastle or go to the lake and skip some stones—simply put, choose an activity that brings out your inner child.
5. Go to the Theatre
Going to the theatre has been a treasured pastime for hundreds of years. From Shakespeare to Andrew Lloyd Webber to Mozart, there is a play, musical, ballet, or opera for just about everyone. So, go experience live theatre on your next date night. And, going to the theatre gives you an opportunity to dress up and look nice for each other, which sets the stage for romance.
4. Host a Couples Game Night
Invite some friends and coworkers who are coupled up to a game night at your house. A little friendly competition is a surefire way to spice up your relationship, and it's also a great way to solidify friendship bonds with your friends. Fun games to try on your next game night:
3. Go to a Sing-along
Besides secretly finding out if your date can hold a tune or not, sing-alongs are just, well, F-U-N. Think of it as a lively twist on the classic movie date. And, with the holidays in full swing, you can wear your favorite ugly Christmas sweater to the show and make the experience that much more festive and joyful. The Sound of Music, Grease, West Side Story, The Greatest Showman, Mary Poppins Returns, and Beauty and the Beast are just a few movies you can enjoy in this format this season.
2. Have a Spa Day
Everyone deserves a spa day, especially after the holidays. Soak in a tub filled with rose petals, take a mud bath, or get a couple's massage. A spa day can be the very thing you and your date need not only to relax and unwind, but build intimacy, and even rekindle the romance (if it's been lost).
1. Sunday Morning Cartoon Date
Wear your comfy pjs, pour two bowls of your favorite cereal, and invite your date over to watch some cartoons with you on a Sunday morning. Nothing triggers childhood memories like old cartoons. They're guaranteed to make you feel nostalgic, which will put you in a good mood. It also gives you and your date the opportunity to delve into deeper conversation topics, like your childhood, your family, and your dreams and aspirations.
There you go, those are our top 10 date ideas for the season! We hope you use one of these ideas on your next winter date.