When you love someone, it's important to tell them. But for many of us, explaining how we feel can be hard, and the right words don't always come out the way we mean. These below I love you paragraphs for him are examples of ways you can tell someone you care about them. You can send them in a card, text, email, or letter. Use them as inspiration for your own paragraphs, borrow sections and tweak them to make them your own, or add details from you own relationship to make it more personal.
Taking the time to write out love paragraphs for him will show your partner just how much he means to you – because telling someone you love them is about so much more than three little words.
So: here are over 30 love paragraphs for him to inspire your own I love you paragraphs!
Over 30 romantic love paragraphs for him
I know we say I love you a lot. In the morning when we wake up, on our way out the door, sometimes when we say goodbye over the phone. We say I love you when something bad happens and we want to let the other person know I'm here for you, we say I love you when one of the kids does something cute or ridiculous. Sometimes, I know, we say I love you when we're really annoyed with each other. Sometimes we say it after a fight. Other times we say it after making love.
We say I love you a lot. I value each and every I love you. They are three little words said so many times and so many different ways and they all add up to a story of our love together and what it means. I wanted to add one more I love you to the bunch—an I love you to let you know that I'm paying attention. When I say I love you and you say I love you too it still means so much to me. It's such a part of our every days lives, but I'll never take it for granted. I love you.
* * *
I wanted to take the time to tell you just how much you mean to me. You've become a rock in my life, something solid and secure I can lean on. Knowing you're by my side makes me so eternally grateful, that I can hardly put it into words. I had felt happiness before, but nothing prepared me for the happiness I feel when I'm with you.
* * *
"I love you without knowing how, or when, or from where. I love you simply, without problems or pride: I love you in this way because I do not know any other way of loving but this, in which there is no I or you, so intimate that your hand upon my chest is my hand, so intimate that when I fall asleep your eyes close." – Pablo Neruda
* * *
I love you in a place where there's no space or time. My love is everlasting, ever growing, and ever present. My love for you knows no bounds. I was drawn to you and your soul in a way I can't explain. It was like I just knew, here he is. This is it. He is it. You'll never know how much you mean to me. I can only tell you that my soul will love you forever.
* * *
It started with wanting to spend more time with you. I wasn't even sure what it was back then, just this feeling I had of wanting more. More time, more information about you, more of your presence in general. I'd make excuses to see you, to ask you questions, to come up to you at events, to be in the same place at the same time. I didn't know it was love then, I just knew I had to find a way to be around you. It was such a simple need. And it still is. I need you in my life. I need to be around you. Your presence, your smile, your very self. You make me so happy.
* * *
* * *
You're my best friend. The person I can tell all my secrets to, the first person I want to talk to when I wake up, and last person I want to talk to before I drift off to sleep. When something good happens to me, you're the first person I want to tell. When I'm troubled by something or if I get bad news, you're the one I go to for comfort and support. But you're so much more to me than a friend, or someone who helps me through tough times, you're the love of my life. You're my friend, my lover, my comfort, and my strength. I am so lucky to have you.
* * *
"The thing is that love gives us a ringside seat on somebody else's flaws, so of course you're gonna spot some things that kinda need to be mentioned. But often the romantic view is to say, 'If you loved me, you wouldn't criticize me.' Actually, true love is often about trying to teach someone how to be the best version of themselves." – Alain de Botton
* * *
When I was a kid I used to sit and think of what the person I loved would be like. I pictured kissing in fields or maybe on the beach. A man who was strong and kind. Who was smart and driven. Who made me laugh. Who made me stronger. You are so much more than I could have ever imagined. I never even thought to wish for someone as kind, sweet, strong, funny, smart, and amazing as you. You are life's biggest surprise. You are so much more than anything I could have dreamed or hoped for.
* * *
I think I've loved you my whole life, only I didn't know it was you I was loving. I have always had this feeling inside me that I was meant for something. After meeting you, I knew I was meant to love you. You are my reason for living. I've loved you my whole life and with each passing day my love only grows stronger.
* * *
* * *
Life is better with you in it. It's simple really. The world is more beautiful, the days are more fun, moments are more precious. I love having you in my life. I couldn't imagine it any other way. I only hope you feel the same way. That I can make your life better by having been in it.
* * *
"Sometimes when I look at you, I feel I'm gazing at a distant star. It's dazzling, but the light is from tens of thousands of years ago. Maybe the star doesn't even exist any more. Yet sometimes that light seems more real to me than anything." – Haruki Murakami
* * *
There are times when we're together, we'll be out at a restaurant or maybe just at home, sitting on the couch or going about our days, and I'll look over at you and I'm struck by how much I love you. It's just like the first time. I see you and it hits me. Only now, unlike the first time, I realize how incredibly lucky I am to have you.
* * *
Before I met you, all my relationships always seemed so hard. They were something I had to work at and it felt forced. With you everything is so easy. Loving you comes so naturally, and it has from the very beginning. It's as if I looked up and there you were: This amazing man. And then there it was: This amazing love I have for you. It's been the greatest surprise of my life.
* * *
We've been through so much you and I. We've had our ups and downs, moments where I thought we were in real trouble. But we've come through them all and we are so much stronger now. Stronger in our love, in our relationship, and in ourselves. I know whatever life throws our way (and I know we're not done yet) we'll be ready to meet it head on, together. As long as we're together, there's nothing we can't face.
* * *
"At night, there was the feeling that we had come home, feeling no longer alone, waking in the night to find the other one there, and not gone away; all other things were unreal. We slept when we were tired and if we woke the other one woke too so one was not alone. Often a man wishes to be alone and a woman wishes to be alone too and if they love each other they are jealous of that in each other, but I can truly say we never felt that. We could feel alone when we were together, alone against the others. We were never lonely and never afraid when we were together." – Ernest Hemingway, A Farewell to Arms
* * *
If something ever happens, and we're not together, I want you to know that you are brave, strong, intelligent, passionate, caring, and generous. You give so much to everyone around you and I know there are times when you feel like you're less than you are—not strong enough or not around enough—but you are so much more than you know. You inspire me each and every day.
* * *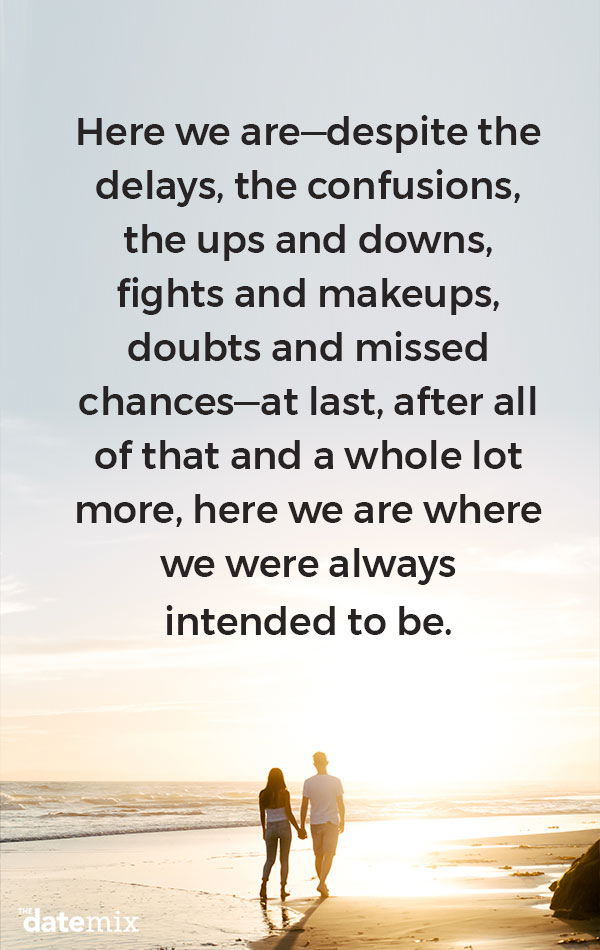 * * *
Here we are—despite the delays, the confusions, the ups and downs, fights and makeups, doubts and missed chances—at last, after all of that and a whole lot more, here we are where we were always intended to be. Being with you feels like letting out a breath I never knew I was holding. It's such a relief to have found a man who makes me feel safe, loved, treasured, smart, supported, and cherished. There's a freedom to loving you, a freedom I never knew existed. It's the freedom of knowing another person so well and being known so well by them. It allows me to be myself, flaws and all. It allows me to love you in the way I always wanted to love someone—unafraid and uninhibited. You've done that for me, and it has made all the difference.
* * *
Before I met you, I didn't think love was for me. It was something other people had and felt. Something in movies and in TV shows. It felt more like a wish I had then something real. Now that I'm with you, love is so much more tangible. It's something I can reach out and touch. It's so much more than a wish or a hope (though it does give me hope, for so many things), it's the very real, wonderful person I wake up to. The warm hand next to mine, the feel of stubble against my cheek. I love you and because of that love I love so much more than you. I love myself and the world in a way I never thought possible. You've made that possible for me. You've made everything possible.
* * *
"It has made me better loving you … it has made me wiser, and easier, and brighter. I used to want a great many things before, and to be angry that I did not have them. Theoretically, I was satisfied. I flattered myself that I had limited my wants. But I was subject to irritation; I used to have morbid sterile hateful fits of hunger, of desire. Now I really am satisfied, because I can't think of anything better." – Henry James, The Portrait of a Lady
* * *
I know we haven't been together all that long, and maybe it's too soon to say such things, but there are some things you just know and some things that need to be said the second you know them. I love you. I've loved you from the moment I saw you. I'm so glad to have a man like you in my life and I can't wait to see what lies ahead.
* * *
I used to try and picture the type of man I wanted to be with. He was usually someone strong and somewhat mysterious, a solid silent figure. But that man was nothing like the reality of you. You're so much more than I could have ever imagined. Your smile, your sense of humor, the way you make me feel when you look at me or touch me.
I never imagined I could love someone so much, love all the silly ridiculous parts of them. Like the odd way you run, how you rest your arm on the back of my chair, the sometimes horrible jokes you tell. All these things make up you, the man I love. The amazing man in my life who's beyond imagining.
* * *
* * *
Sometimes I try to think of what my life would be like without you. What I would be like or what I'd do with my days. It's so hard because so much of who I am now is due to you. You've challenged me, inspired me, encouraged me, and supported me. And it's because of all this that I'm the person I am today. I am so grateful for your presence in my life and for the love and attention to give to me, our relationship, and our life together. I couldn't ask for anything more. I love you so much.
* * *
There are moments when we're together, where I wish I could make time stop. I often think to myself, that I could easily stay in this moment forever. Just being with you, sitting with you, touching your cheek or stroking your back. Feeling you by my side is everything to me. Every moment I spend with you is the best moment of my life. I love you, and I will go on loving you through all the moments we share together from now until forever.
* * *
I saw an older couple walking the other day. They were wearing matching sports coats and holding hands as they chatted. The woman giggled at something and the man did too. They were so sweet and comfortable with each other. They obviously had so much love and history between them. It made me realize that one day we'd be like that. A couple walking together, talking, laughing, and enjoying the life we build together.
I can't wait to grow old with you. To see your old man smile, the crinkles that'll form at the corner of your eyes. I can't wait to see how we are together. Will we argue and get grumpy? Will we silently sit by the fire? Will we go dancing? Eat the same dinner every Friday night? I don't know. But I can't wait to continue this journey we're on and find out. I love you so much and I love that I get to be the one to grow old with you and find all these things out.
* * *
They say that soulmates are two souls that used to be one being. That these beings were separated and that as they roam this earth they always feel the lack of each other, the empty spot inside of them, until the moment they meet again. Then they instantly know that they've met their soulmate. Then they connect and are made whole again. There's no doubt in my mind that my soul is connected to yours. With you I feel a peace, a wholeness, I didn't know was even possible.
* * *
There are times in my life where I feel lost. It's hard to explain but it's almost like I'm untethered from something that used to keep me grounded, like a kite that's lost in the wind. But then I come home, I see you, you ask me how my day went or start talking about your day and what's happened to you, and it's like you're bringing me back to myself. I can feel myself settle back into my own skin.
You ground me and bring me a sense of security and safety I've never known before. I have so much confidence in us and in our love, in the way I feel about you and the way you feel about me. I love you so much and it gives me such strength. I wanted you to know how much you mean to me, what you do for me. Without you I'm so lost but with you I'm found again.
* * *
"No relationship is perfect, ever. There are always some ways you have to bend, to compromise, to give something up in order to gain something greater … The love we have for each other is bigger than these small differences. And that's the key. It's like a big pie chart, and the love in a relationship has to be the biggest piece. Love can make up for a lot." – Sarah Dessen, This Lullaby
* * *
There was this time early in our relationship, I can't even remember what we were doing. It was probably something normal like sitting on the couch or driving together. But I looked over at you and I just knew: This is the man for me. There will never be another man more caring, strong, intelligent, thoughtful, or loving.
You surprise me so much every day. The way you care for me and those around you. The way you make me smile or laugh. The passion you put into your work and your family. I am so thankful to have you in my life.
* * *
My love for you has no beginning and no end. It is cyclical, like life. It is ever-flowing, like the oceans. It is as boundless as the sky and as vast as the universe. When I see your face, I see my past, my present, my future. When I hold your hand I feel everything inside of me expand. You are my everything. I will love you forever.
* * *
Please forgive me, I was afraid of loving you. Afraid of what it would do to me. Afraid that if I cared this much about someone and it didn't work out, if it fell apart, I'd stop working too. But now I know that love is about taking a leap of faith and I have faith in you. I love you and I'm not afraid of it anymore. I love you and I love what it's done to me. I'd stop working without you. That's when I'd really fall apart.
* * *
Watching you walk across a room is the greatest gift. The way you move is so strong and sure. The way you smile makes me feel at peace. Knowing you're walking towards me is a feeling so hard to describe. It's like coming home, a comfort, only the home is coming to me. I will never know such love, such peace, as you. You're my home.
* * *
I want you to know that you are the most important thing in my life. You're the reason I do everything. When I get up in the morning, I feel so grateful for every second I have with you and have here on earth. You give my life meaning, you give my days such joy, you are the reason I smile. Thank you for being with me, for joining me on this journey through life. Your love is everything to me.
* * *
Whew – you've made it to the end of our collection of love paragraphs for him! Hopefully among them you've found some sentiments that echo your own feelings. Feel free to steal them to claim as your own – we won't tell anybody, we promise.