Trying to come up with some Bumble profile examples for men isn't always straightforward. It can be hard to present yourself in a way that's genuine or to know exactly which opening line will attract the people you're looking for. But there are ways to make sure you're being respectful and king while also being attractive and fun.
Below, we've put together some bumble profile examples for men, as well as a few bio tips to help you create a short, sweet, humorous dating profile that'll help you to get the attention you're looking for!
Bumble Profile Examples for Men: 30 Examples to Get You Started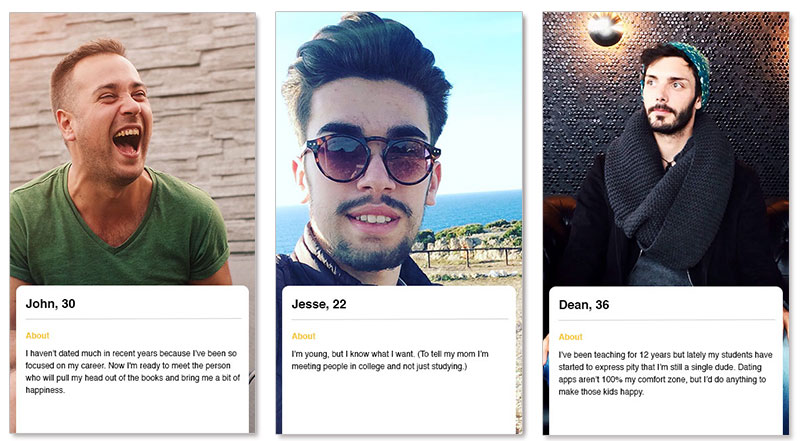 Rely on the truth
The truth will set you free, gentlemen. It's easy to tell the truth and if you're a good person with genuine intentions, it'll be easy to create a compelling dating profile. Just be yourself and the rest will come to you.
John, 30
I haven't dated much in recent years because I've been so focused on my career. Now I'm ready to meet the person who will pull my head out of the books and bring me a bit of happiness.
Shawn, 28
My friends say I need a nice woman in my life. I need a solid date for weddings and someone to help me branch out from Marvel movies.
Hank, 42
I work in business management and I'm afraid I'm becoming a very boring single man. I'm looking for a nice partner to help me mix it up.
Dean, 36
I've been teaching for 12 years but lately, my students have started to express pity that I'm still a single dude. Dating apps aren't 100% my comfort zone, but I'd do anything to make those kids happy.
Jesse, 22
I'm young, but I know what I want. (To tell my mom I'm meeting people in college and not just studying.)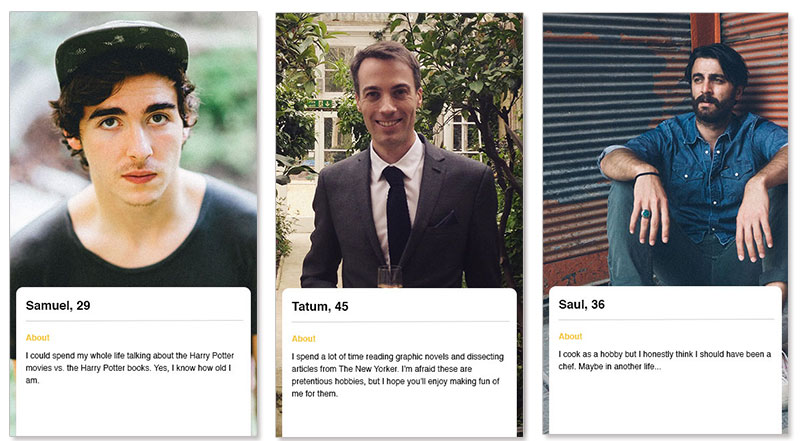 These are my passions
It can also be hard to be that honest with complete strangers on the internet. If you prefer to keep it shallow at first, why not discuss a few of your favorite things?
Samuel, 29
I could spend my whole life talking about the Harry Potter movies vs. the Harry Potter books. Yes, I know how old I am.
Tatum, 45
I spend a lot of time reading graphic novels and dissecting articles from The New Yorker. I'm afraid these are pretentious hobbies, but I hope you'll enjoy making fun of me for them.
Taylor, 24
I have seen Kanye West five times live and I would like to discuss each of those experiences with the right person.
Andrew, 33
A whole lot of my life involves surfing, but the good news is, I have graduated from skateboarding. Is that growth?
Saul, 22
I cook as a hobby but I honestly think I should have been a chef. Maybe in another life…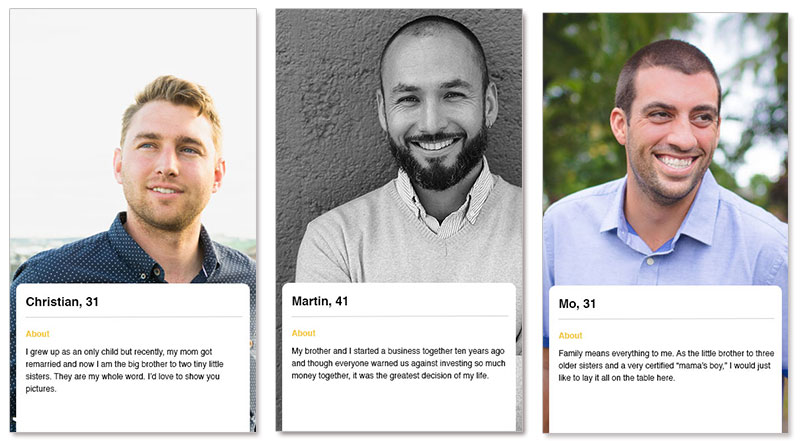 Talk
About your family
When it comes to Bumble profile examples for men, families are a really tricky subject. It's common enough to not have a really fantastic relationship with your entire family, but then again, it's a nice commonality to rely on. If you feel comfortable talking about your family, or if you're close with them, they make a great entryway into a conversation.
Marcus, 35
I have nine siblings, from two different parents' marriages. I love each of them and am constantly on my phone helping them through their various issues. What else is a big brother for?
Christian, 31
I grew up as an only child but recently, my mom got remarried and now I am the big brother to two tiny little sisters. They are my whole word. I'd love to show you pictures.
Martin, 41
My brother and I started a business together ten years ago and though everyone warned us against investing so much money together, it was the greatest decision of my life.
Franklin, 30
I have spent most of my life trying to impress my much older sisters. They call me for brunch every weekend, so I think I've succeeded?
Mo, 31
Family means everything to me. As the little brother to three older sisters and a very certified "mama's boy," I would just like to lay it all on the table here.
Ask questions
To avoid the dreaded accusation of "mansplainer," try asking your potential future date a question about him or herself. It's okay to relate that question back to you because this is your dating profile after all, but you'd be surprised what asking a simple question can result in.
Lorin, 31
My top three bucket list vacations are Iceland, Ireland, and Greece. Where have you traveled? Where would you like to go?
Kenny, 43
If I could play one sport professionally, it would be soccer because I feel like it's the least harmful. (Football is terrifying.) Which sport would you play? Which sport do you play?
Joseph, 33
If I was stuck on a desert island with only one movie to watch for the rest of my life, it would be 22 Jump Street. Which would you choose?
Russell, 25
I'm a huge music buff and can name all of the members of bands like Nirvana, Led Zeppelin, U2, and R.E.M. What kind of music are you obsessed with?
Marc, 28
I speak three languages: Spanish, English, and Latin. (I studied it in college!) Which languages do you speak, or wish you could speak?
Be funny
It's okay to have your dating profile be short, sweet, and hilarious.
Tyler, 34
What do you call fake spaghetti? (It's an "im-pasta," but please message me anyway.)
Lenny, 25
I'm such a nut that even squirrels befriend me.
Luis, 34
Do you know where okra comes from? Okrahoma, of course.
Ronald, 21
I've seen Friends so many times that I quote it in my sleep. Can I be any more pathetic?
Carter, 39
I'm a DJ. That's the whole joke.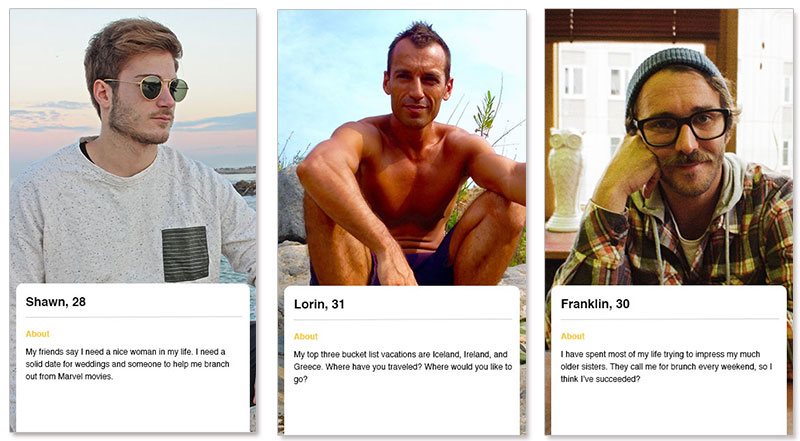 Rely on your social media
For men especially, having a poppin' social media account can really help your potential future partner (man or woman!) feel comfortable. If you're big on Twitter or Instagram, link it up and let them see who you are for themselves.
Greg, 26
I spend too much time on Twitter, but that does a better job explaining who I am than I can. (Link.)
Jerry, 46
It's important for me to get this out of the way quickly. I take really good selfies. (Link.)
Tracie, 34
I wrote a book a few years ago and have a lot of Facebook followers to show for it. Please be impressed and not horrified. (Link.)
Dylan, 29
Twitter, Instagram, LinkedIn, Facebook. Nothing means anything to me like Reddit does. (But my username is @dylan_22 on all of them.)
Richie, 32
I just started spending time on Instagram and have accidentally created an account for my dog? Anyway, he's cuter than me, so have fun. (Link.)
If you're still looking for more inspiration, check out our Pinterest board of online dating profile examples to see more online dating profiles examples for men.
*The Date Mix is owned by Zoosk, Inc. Zoosk, Inc. is not affiliated, associated, authorized, endorsed by, or in any way officially connected with Bumble, or any of their subsidiaries or affiliates. Bumble is a registered trademark of their respective owners.