Getting Married?: Is the youngest Jenner about to walk down the aisle? Maybe. Rumours circulated that Kylie Jenner was engaged to rapper Tyga when she was spotted sporting a huge diamond ring earlier this year. Now it seems that Tyga has confirmed the rumours on a Snapchat video posted this week in which he repeatedly calls Jenner his "fiancee." Jenner appears in the video, wrapping her arms around her beau. "I don't f*** with nobody, it's just me, my fiancée, this lil' dog I just got," the rapper says. So it's official, then? Reps for both Jenner and Tyga declined to comment.
Another Breakup: The Summer of Breakups came to a sad close this week when it was revealed that Amy Poehler and Nick Kroll have called it quits. Apparently intense work schedules came between the couple of two years. "Unfortunately, they just couldn't make the relationship work with their schedules," said one insider close to the Parks and Recreation actress to US Magazine. "They really tried, but it just wasn't realistic anymore," added the source. "They were spending more time apart than together." In her memoir, Yes Please, Poehler wrote of her relationship with Kroll: "On one of our first nights together, I woke up apologizing for my snoring and he pulled out two earplugs he had worn to bed so he could hear what I was saying. It was one of the most romantic gestures I have ever seen." Aww.
Happy Marriage: According to Nicole Kidman, the couple who travels together, stays together. The Oscar-winning actress opened up about her marriage to Keith Urban, her husband of nine years, in a recent interview with Dujour Magazine. "I have an incredible husband who is so willing to get on planes and fly places, even if it's for a night," she shared. "I had an opening of the play three nights ago, and he's in the middle of a tour in the States. I said, 'It's too much for you to have to fly all the way back, don't worry,' and he said, 'I'm flying.' He flew 10 hours to come and be with me for the night, and then he flew back and did a gig. That for me is love in action. That's extraordinary. But I would do the same for him and that's what we've committed to as a couple." Apparently the couple also refrains from texting, and insists on calling each other instead. After almost a decade together, they must be onto something.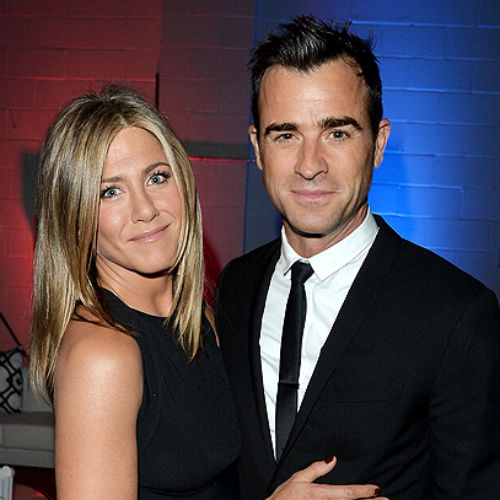 Group Honeymoon: It's been over a month since Jennifer Aniston and Justin Theroux walked down the aisle, and now the handsome actor/writer is sharing details about the couple's honeymoon. Well, not those kind of details. The Leftovers star told Extra that their Bora-Bora honeymoon was special and just what they had envisioned — even if it wasn't conventional. "It was a fantastic honeymoon," Theroux said. "We had thought about it – we could just do a normal honeymoon, or we could go with some friends, keep the party going, relax and have fun." So they chose the latter, and jetted off with their friends Jason Bateman, Jimmy Kimmel and Tobey Maguire, along with their respective families. Sounds like a party!
Married Man: Looks like Usher had it "so bad" for longtime girlfriend, Grace Miguel, that he married her. The "OMG" singer and his new bride eloped before vacationing in Cuba for their honeymoon. According to a source, the couple had planned to marry in front of friends and family in Atlanta, but decided to secretly wed instead. The couple have been together since 2009, and were engaged earlier this year. "I have an incredible partner and manager," he gushed to Billboard in October 2014. "She has helped me through some of the hardest times in my life and my career. She's someone who's been able to support and understand all of who I am. Not just as a dancer or as a performer or as a singer, but as a humanitarian and a business man and as a person." Congrats to the new couple!
Photos by: J-14.com, US Magazine, Hello! Magazine, People Magazine