Can't Forgive or Forget: New details are emerging about Ben Affleck and Jennifer Garner's big split. Insiders close to the couple say the split was a result of Affleck's hard-partying ways and wandering eye. According to a pal, the Oscar winner confessed that he had cheated with an attractive co-star. Others say there has been a level of mistrust present in their relationship since the get-go. "She always fought against the urge to throw her hands up in the air and walk away," says an insider of the couple, who fell in love while filming 2003's Daredevil. "They've been on the brink of splitting up many times before, but it's Jennifer's worst nightmare for their children. Her biggest desire has always been to keep the family together." And in some ways that will remain true: Affleck is reportedly remaining on the grounds of their Brentwood estate.
Canada Love: Canadian actors and current True Detective co-stars, Rachel McAdams and Taylor Kitsch, are reportedly dating. The two were first spotted dining at West Hollywood's Osteria Mozza on June 2, and now multiple sources confirm they are dating. "It hasn't been long," says an insider. "But it's serious." According to a friend of McAdams, the couple have been friends "for years" but grew closer on set. However, McAdams hasn't always agreed with mixing business with pleasure. "A set may seem like a good place for romance, but I don't think it's very conducive; it's too distracting," she told Glamour magazine. "Every relationship I've had with a coworker comes after the fact." We guess that's what happened here!
Sudden Split: One of Hollywood's longest-running couples seem to be headed towards Splitsville. Jon Hamm and Jennifer Westfeldt are reportedly ending their relationship after 16 years together. The reason? Apparently the Mad Men star couldn't commit to starting a family with his long-time love. "Jennifer realized that she and Jon don't want the same things," the source said. "So they agreed that it was time to take a step back." Another rumour suggests that his Minions co-star Sandra Bullock, who's mom to son Louis, has caught the eye of the Emmy-nominated actor. Time will tell if Hamm and Bullock will become the next power couple. We like the idea of "Hamm Sandy."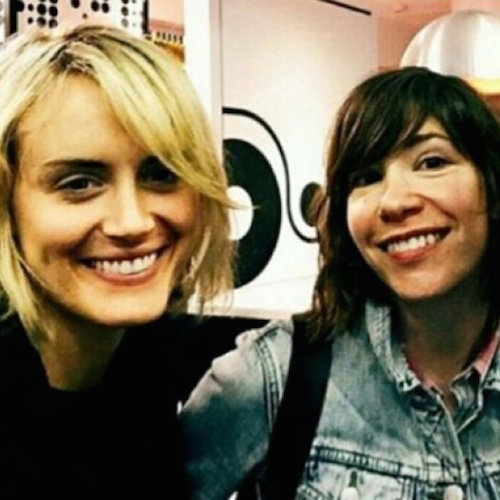 More Than Friends: It looks like Taylor Schilling's IRL love life is catching up to her onscreen one. The Orange is The New Black star is said to be dating Carrie Brownstein from Portlandia. Rumours have been flying since March that the two were hot and heavy when Schilling was spotted with Brownstein in Portland. Apparently the two have been friends for years and decided to take things to the next level, which includes Schilling following Brownstein's band, Sleater-Kinney, to Scotland this month. A source says of Schilling: "She loves everything about Carrie. It's rare to find someone special in this business. They're doing everything they can to keep the spark alive! This could be the real deal."
Krazy Love: After three kids, a stint in rehab, and inappropriate relations with his ex-girlfriends, Kourtney Kardashian finally kicked Scott Disick to the curb this week. However, according to source close to the couple, Disick believes that there is still a chance that he and his long-time girlfriend will reunite. "Scott says that he's doing fine," the source says. "He says that he is not upset that the relationship is over, because 'over' doesn't always mean 'over.' He has left open the door to getting back with her." But does Kardashian want to get back together with him? That remains to be seen, and, personally, we hope not.
Photos: People Magazine, UInterview.com, HollywoodLife.com, D-Listed.com, Life Style Magazine