In Love: Looks like Taylor Swift is not ready to "shake off" her new relationship with DJ Calvin Harris anytime soon. The superstar kicked off her U.K. tour in Harris's hometown of Glasgow, Scotland on June 23, and hinted at her blossoming feelings for her beau." Look at all of these amazing Scottish people in this room right now," she told the crowd. "I happen to love Scottish people, personally." Was that an innuendo, Taylor? We think so. Truthfully we knew it was already true love when it was revealed that Harris is currently cat-sitting his girlfriend's beloved cats while she's away on tour. Could these two be anymore purr-fect for each other?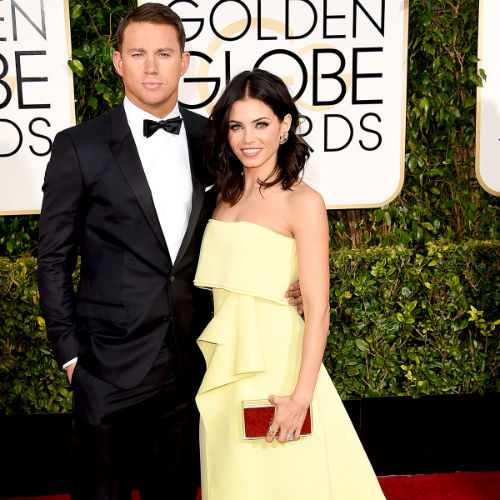 Magic Music: Channing Tatum had some fun answering questions about his marriage with wife, Jenna Dewan, on People Magazine's Chatter this week. When asked what's his favorite romantic song to set the mood, the Magic Mike XXL star joked, "The Macarena." (Or maybe he wasn't joking after all.) As for what he thinks is Dewan's favorite thing about him? His response: "My belly." We can't disagree with that. Tatum has been married to Dewan since 2009. The couple welcomed their first child, daughter Everly, in 2013.
Best Dad: Celine Dion celebrated Father's Day by commemorating her husband, Rene Angelil, the father of her three sons, Rene-Charles and twins, Nelson and Eddy. "René, you are the best father a child could ever dream to have," Dion shared in a message to her fans. "And you are the best husband a woman could hope to share her life with." The message is even more sentimental and sweet given that Angelil is currently undergoing treatment for cancer at a hospital outside of Boston. Celine left her husband's bedside earlier this month to sing with Andrea Bocelli at a charity event in Las Vegas. There she told the crowd that even though the reality of René's battle is hard, "we have the ticket to live today. We're alive and we're going to go for it." The "Power of Love" songstress married Angelil in 1994.
Bachelor Scoop: Current Bachelorette Kaitlyn Bristowe might be receiving some flack this week for getting intimate with contestant Nick Viall, but she's got a defender in former Bachelorette Ali Fedotowsky. The reality star took to her personal blog, writing: "I mean OBVIOUSLY you're going to kiss more than one guy when you are expected to find your husband out of 25 random guys in less than 3 months. Intimacy matters in a relationship and you have to test the waters!" Fedotowsky added that Bristowe wasn't the first to have sex on the show. "Let me just dive into this topic by saying slut shaming is NOT COOL! What is wrong with people?!?! I mean really. It makes me SO angry that there is such a double standard in this world when it comes to men and women having sex."
New/Old Love: Richard Gere is proving that age really is just a number. The 65-year-old actor is dating 32-year-old Spanish socialite, Alejandra Silva. The two were spotted getting cozy on a yacht off the coast of Acitrezza, Italy. Though their relationship is only making news now, the couple have reportedly been together for over a year. According to friends, they're just being "private" about it. The "Pretty Woman" star ended his 11-year marriage to Carey Lowell in 2013. He's been previously linked to Cindy Crawford and Padma Lakshmi.
Photo Credit: Daily Mail, US Magazine, Page Six