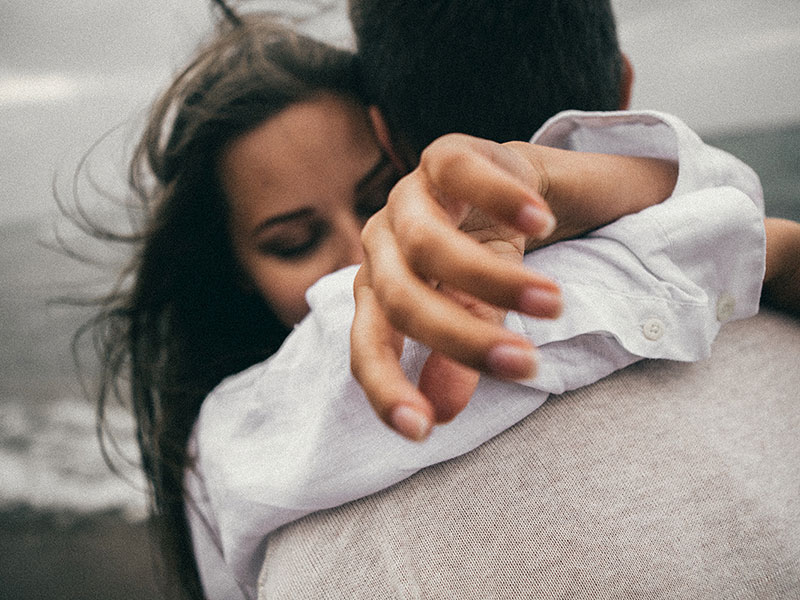 Fear. Anger. Mistrust. Envy. Apprehension. It's not one of the nicer sides of love, but jealousy is a part of it. When you're with someone you care deeply about it can drive you a little crazy, have you doubting yourself and your relationship, and make you wonder What does this person even see in me? Is it any wonder there are so many songs about jealousy?
Whether you're watching the one you love with someone else across a room full of faces, lusting after your best friend's girl, or just wondering what you'd do if you were her man, there's a jealous song that might not make you feel any better but maybe a little less alone. Check out the list below or listen to it on Spotify.
Favorite Lyric:
"And I know I'm gonna run you off, if I don't learn to let you go.
But ooh oh you make me lose control."
2. "Jealousy," Natalie Merchant
Favorite Lyric:
"Is she the sort you've always thought,
could make you what you're not?"
Favorite Lyric:
"You're always dancing down the street with your suede blue eye-eyes.
And every new boy that you meet doesn't know the real surprise."
Favorite Lyric:
"I'll arrest myself and wear a shield. I'll go out of my way to prove I still smell her on you."
Favorite Lyric:
"The past is gone but something might be found to take its place… Hey jealousy."
Favorite Lyric:
"Jealousy, turning saints into the sea,
swimming through sick lullabies,
choking on your alibis."
Favorite Lyric:
"I want a girl who will laugh for no one else.
When I'm away she puts her makeup on the shelf."
Favorite Lyric:
"Oh, oh, and I'm not jealous, no, I'm not.
Oh, oh, I just want everything she's got."
9. "Revenge," P!nk Featuring Eminem
Favorite Lyric:
"I'm daydreamin', let me count the ways
how I'll get you or how I'll make you pay."
Favorite Lyric:
"I got something to say that might cause you pain.
If I catch you talking to that boy again,
I'm gonna let you down and leave you flat.
Because I told you before, oh you can't do that."
Favorite Lyric:
Oh can't you see,
you belong to me.
How my poor heart breaks,
with every breath you take.
Favorite Lyric:
"Should have gave you all my hours when I had the chance. T
ake you to every party 'cause all you wanted to do was dance.
Now my baby's dancing but she's dancing with another man."
Favorite Lyric:
"If you can see I'm the one who understands you. Been here all along so why can't you see, you belong with me."
Favorite Lyric:
"I guess that you know what extremes I have gone to,
to prove that I didn't care. You were so anxious to meet the dream that I've hung onto.
Well, that's him, that's my Jim, over there."
Favorite Lyric:
"I've got your class ring that proved you cared. And it still looks the same as when you gave it, dear.
The only thing different, the only thing new,
I've got these little things, she's got you."
16. "Gallery," Mario Vazquez
Favorite Lyric:
"And girl you're just way too fine. Gotta be treated as one of a kind. Girl use your mind. Don't be just another dime."
17. "Girl Crush," Little Big Town
Favorite Lyric:
"I want to taste her lips. Yeah, 'cause they taste like you."
Favorite Lyric:
"Envy is the bond between the hopeful and the damned."
Favorite Lyric:
"I'm sorry that I made you cry. Oh my I didn't want to hurt you. I'm just a jealous guy."
Favorite Lyric:
"I feel so dirty when they start talking cute.
I wanna tell her that I love her but the point is probably moot."
Favorite Lyric:
"I've been told that you've been bold with Harry, Mark, and John.
Monday, Tuesday, Wednesday to Thursday. With Harry, Mark, and John."
Favorite Lyric:
"Now when I add the sum of you and me,
I get confused when I keep coming up with three. You're too much for one man, but not enough for two."
Favorite Lyric:
"There are times when I see you talking to other girls, I feel insecure. And every time I see you walking out, I wonder if you're coming back to me."
Favorite Lyric:
"So is it really my fault, I get a shiver when I see you with those other guys."
Favorite Lyric:
"Stop, understand me. I ain't afraid of losing face. Stop, understand me. I ain't afraid of ever losing faith in you."
Favorite Lyric:
"And if she should tell you come closer, and if she tempts you with her charms, tell her no no no no no-no-no-no."
Favorite Lyric:
"Ring the alarm, I been through this too long, but I'll be damned if I see another chick on your arm."
Favorite Lyric:
"I, I who have no one, must watch you go dancing by, wrapped in the arms of somebody else when, darling, it's I who loves you."
Favorite Lyric:
"Going to buy me a bulldog, to watch him while I sleep. Just to keep my man from making his midnight creep. Yes I'm jealous, jealous. Jealous hearted me."
Favorite Lyric:
"Oh jealousy you tripped me up. Jealousy you brought me down. You bring me sorrow you cause me pain. Jealousy when will you let go?"
Favorite Lyric:
"I won't lie to you, I know he's just not right for you."
Favorite Lyric:
"It's just that I'm so afraid someone might steal you away, I'd lose my mind.
So please forgive me for the way I act sometimes. I'm the jealous kind."
Favorite Lyric:
"There's a little girl I know, you might know her too. She looks so good, she looks so cute, standin' next to you. And I don't know what to do."
Favorite Lyric:
"Don't say that she's pretty, and did you say that she loved you. Baby I don't want to know."
35. "Jealous," Nick Jonas
Favorite Lyric:
"It's not your fault that they hover, I mean no disrespect. It's my right to be hellish. I still get jealous."
Favorite Lyric:
"Right now, she's probably up singing some white-trash version of Shania karaoke. Right now, she's probably saying "I'm drunk" and he's a-thinking that he's gonna get lucky."
Favorite Lyric:
"Shades of red, eyes of green, sees black and white, and there's no in between."
Favorite Lyric:
"Forgive this foolish fear that rages inside of me. Oh, I love you so much love has blinded me."
Favorite Lyric:
"I walked in on your love scene, slow dancing. You stole everything, how can you say I did you wrong."
Favorite Lyric:
"And in the moonlight I throwed him down, a kicking, screaming, a rolling around. A little piece of a bloody tooth. Just so you know I was thinking of you."
Favorite Lyric:
"Remember all the things that you and I did first? And now you're doing them with her. Remember all the things that you and I did first? You got me, got me like this."
Favorite Lyric:
"I bust the windows out ya car and no it didn't mend my broken heart."
Favorite Lyric:
"Is she perverted like me? Would she go down on you in a theater? Does she speak eloquently? And would she have your baby? I'm sure she'd make a really excellent mother."
44. "Girlfriend," Avril Lavigne
Favorite Lyric:
"She's like so whatever. You could do so much better. I think we should get together now."
Favorite Lyric:
"Life just sucks, I lost the one. I'm giving up. She found someone. There's plenty more. Girls are such a drag."
Favorite Lyric:
"Jealousy, you have never done a thing for me."
Favorite Lyric:
"Endlessly jealous of you, being endlessly jealous of me.
The man that you thought I could be turning red with jealousy."
Favorite Lyric:
"I feel it comin' it's flushin' my face. I feel it comin' jealousy baby.
I feel it comin' boilin my blood . I feel it comin' jealousy baby."
49. "Jealousy," Billy Fury
Favorite Lyric:
"I loved you too well. For I doubted you in my heart.
My life was hell every moment we were apart.
Why did I make that big mistake?
I wronged you right from the start."
Favorite Lyric:
"I was so wrong. She's gone tonight.
I was so wrong. I can see her now.
And jealousy had twisted me somehow."
Favorite Lyric:
"We're caught in a trap. I can't walk out, because I love you too much, baby."
Favorite Lyric:
"So I sneaked back and caught her with my man,
laughing and kissing till they saw the gun in my hand.
The next thing I knew they were dead on the floor.
Dark lady would never turn a card up anymore."
Favorite Lyric:
"We were so close but we should've been closer and it's making me feel so sad. B
ut I tell myself I didn't lose her 'cause you can't lose a friend you never had."
Favorite Lyric:
"Well I'd rather see you dead, little girl, than to be with another man."
Favorite Lyric:
"Bill, you know we just left her place, and we both know what she said.
She doesn't want to see your face, and she wishes you were dead!"
Favorite Lyric:
"The handsome guy that you've been dating, whoa, I got a feelin' he's gonna put you down."
57. "The Girl is Mine," Michael Jackson and Paul McCartney
Favorite Lyric:
"I don't understand the way you think, saying that she's yours not mine. Sending roses and your silly dreams, really just a waste of time."
58. "No Reply," The Beatles
Favorite Lyric:
"I nearly died, I nearly died. 'Cause you walked hand in hand with another man in my place."
Favorite Lyric:
"I can still recall when you told me I was all everything you looked for in a man. But I know that it's not true, I've seen the way he looks at you, and I think you're gonna hang me up again."
60. "Jealous," Robert Palmer
Favorite Lyric:
"When I see you with that guy and he catches your pretty eye,
You know it makes we want to die."