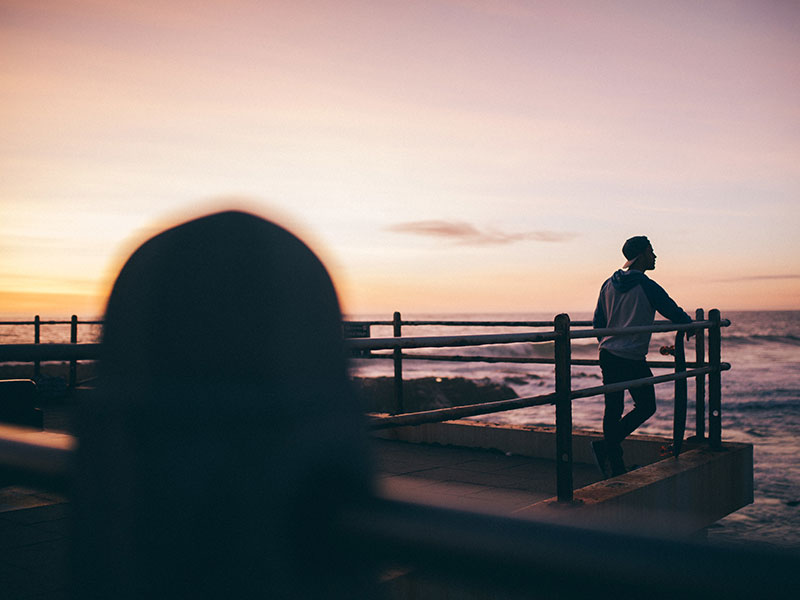 Loving someone who doesn't love you back, loving someone who loves someone else, loving someone who doesn't know you're alive—there are a lot of reasons a love can be unrequited and the artists in this list of songs about unrequited love have covered them all.
From Eric Clapton and Rick Springfield's songs about pining over your friend's lover to Nina Simone and Amy Winehouse's tortured songs about loving a man who isn't capable of loving you back, there's a song and a story from every genre of music that anyone who has ever known the particular pain of wanting someone you can't have can relate to. Listen to it on Spotify or browse the list below to check out your favorites.
1. Lover You Should've Come Over, 
Jeff Buckley
Favorite Lyric:
It's never over, all my blood for the sweetness of her laughter.
It's never over, she is the tear that hangs inside my soul forever.
2. Waiting In Vain, 
Bob Marley
Favorite Lyric:
I don't wanna wait in vain for your love.
3. To Know Him, Is to Love Him, 
Amy Winehouse
Favorite Lyric:
Why can't he see? How blind can he be? Someday he'll see, that he was meant for me.
4. Catch the Wind, 
Donovan
Favorite Lyric:
For me to love you now would be the sweetest thing. It would make me sing. Ah, but I may as well try and catch the wind.
5. Every Little Thing She Does Is Magic, 
The Police
Favorite Lyric:
Though I've tried before to tell her of the feelings I have for her in my heart, every time that I come near her I just lose my nerve.
6. Take This Longing, 
Leonard Cohen
Favorite Lyric:
Just take this longing from my tongue, all the useless things my hands have done. Let me see your beauty broken down, like you would do for one you love.
7. Creep, 
Radiohead
Favorite Lyric:
I want you to notice, when I'm not around. You're so fuckin' special. I wish I was special.
8. All Her Favorite Fruit, 
Camper Van Beethoven
Favorite Lyric:
We dream our dreams and sing our songs of the fecundity of life and love.
9. I Can't Make You Love Me, 
Bonnie Raitt
Favorite Lyric:
I can't make you love me if you don't. You can't make your heart feel something that it won't.
10. Sitting, Waiting, Wishing, 
Jack Johnson
Favorite Lyric:
Loving somebody don't make them love you.
11. Just My Imagination, 
The Temptations
Favorite Lyric:
When her arms enfold me, I hear her tender rhapsody.
But in reality, she doesn't even know me.
12. Just a Friend, 
Biz Markie
Favorite Lyric:
You, you got what I need. But you say he's just a friend.
13. Shiver, 
Coldplay
Favorite Lyric:
I'll always be waiting for you.
So you know how much I need you.
But you never even see me, do you.
14. Diamonds and Rust, 
Joan Baez
Favorite Lyric:
Now you're telling me you're not nostalgic.
Then give me another word for it. You who are so good with words.
15. Laugh, I Nearly Died, 
The Rolling Stones
Favorite Lyric:
I'm so sick and tired trying to turn the tide, yeah.
So I'll say my goodbye. Laugh, laugh I nearly died.
16. C'était Toi (You Were the One), 
Billy Joel
Favorite Lyric:
I know there is no one that can save me from myself. You were the only one.
17. Jessie's Girl, 
Rick Springfield
Favorite Lyric:
You know, I feel so dirty when they start talking cute.
I wanna tell her that I love her, but the point is probably moot.
18. One for My Baby, 
Frank Sinatra
Favorite Lyric:
We're drinking my friend, to the end of a brief episode.
Make it one for my baby, and one more for the road.
19. Layla, 
Eric Clapton
Favorite Lyric:
I tried to give you consolation when your old man had let you down.
Like a fool, I fell in love with you.
You turned my whole world upside down.
20. Dancing on My Own, 
Robyn
Favorite Lyric:
I'm in the corner, watching you kiss her.
I'm right over here, why can't you see me.
21. Cecilia, 
Simon and Garfunkel
Favorite Lyric:
I got up to wash my face.
When I come back to bed someone's taken my place.
Favorite Lyric:
"Are you left to wonder, all alone, eternal…
This isn't how it's really meant to be"
Favorite Lyric:
"Here comes my baby, here she comes now.
Walking with a love, with a love that's oh so fine, never to be mine.
No matter how I try."
24. "Black," 
Pearl Jam
Favorite Lyric:
"I know you'll be a star in somebody else's sky.
But why, why, why can't it be, can't it be mine?"

Favorite Lyric:
"He stopped loving her today.
They placed a wreath upon his door.
And soon they'll carry him away."
Favorite Lyric:
"The pain is killing me but I can't let it be.
I have to let you know,
I don't wanna let you go."
27. "Cherish," 
The Association
Favorite Lyric:
"Oh I'm beginning to think that man has never found,
the words that could make you want me.
That have the right amount of letters, just the right sound.
That could make you hear, make you see."
28. "If," 
Janet Jackson
Favorite Lyric:
"If I was your woman, the things I'd do to you. But I'm not.
So I can't. Then I won't. But if I was your girl."
29. "Love Untold," 
Paul Westerberg
Favorite Lyric:
"It was all set. She aint showed up yet. Still a good chance. It`s a love untold."
Favorite Lyric:
"Basically, I wish that you loved me. I wish that you needed me.
I wish that you knew when I said two sugars, actually I meant three."
Favorite Lyric:
"And all I can do is keep on telling you I want you, I need you.
But there ain't no way I'm ever gonna love you."
Favorite Lyric:
"And I can woo you, I can amuse you.
But there is nothing I can do to make you mine."
Favorite Lyric:
"Can't break free from the the things that you do.
I want to walk but I run back to you,
that's why I hate myself for loving you."
34. "On My Own," 
Samantha Barks
Favorite Lyric:
"I love him but every day I'm learning.
All my life I've only been pretending."
35. "I Do," 
Jude
Favorite Lyric:
"Time rolls on and dreams they die.
And I've thrown out the pictures I had of you."
Favorite Lyric:
"I'm down to just one thing,
and I'm starting to scare myself."
Favorite Lyric:
"Watching stars without you my soul cried."
38. "Sorry,"
Maria Mena
Favorite Lyric:
"And I don't think you meant it when you said you couldn't love me."
Favorite Lyric:
"And I want the one I can't have, and it's driving me mad.
It's all over, all over my face."
Favorite Lyric:
"You turn every head but you don't see me."
Favorite Lyric:
"Oh I am just a friend, that's all I've ever been. Cause you don't know me."
Favorite Lyric:
"Tell me where's your hiding place.
I'm worried I'll forget your face.
And I've asked everyone.
I'm beginning to think I imagined you all along."
Favorite Lyric:
"Did I dream you dreamed about me? Were you hare when I was fox?
Now my foolish boat is leaning, broken lovelorn on your rocks."
Favorite Lyric:
"Your name is the only word that I can say."
Favorite Lyric:
"My heart's crippled by the vein that I keep on closing. You cut me open."
Favorite Lyric:
"If your her heart wasn't such and ocean I wouldn't sink like a stone."
Favorite Lyric:
"When you love her and she doesn't love you,
you're only learning the game."
Favorite Lyric:
"I could make you happy, you know.
If you weren't already. I could do a lot of things."
Favorite Lyric:
"So, if you're travelin' in the north country fair,
where the winds hit heavy on the borderline,
remember me to one who lives there.
She once was a true love of mine."
Favorite Lyric:
"Life's full of flaws. Who knows the cause?
Living in the memory of a love that never was."
Favorite Lyric:
"Got my mojo working, but it just won't work on you.
I wanna love you so bad that I don't know what to do."
Favorite Lyric:
"Our love's a secret and can't see the light of day
but I went and wrote this love song anyway.
Her name is… her eyes are…"
Favorite Lyric:
"She musters a smile for his nostalgic tale.
Never coming near what he wanted to say.
Only to realize it never really was."
Favorite Lyric:
"You take up my time, like some cheap magazine,
when I could have been learning something."
55. "Stwisted," 
Edie Brickell and the New Bohemians
Favorite Lyric:
"I ain't gonna kill myself wanting you when you don't seem to want me."
Favorite Lyric:
"It's been stinger to stinger, darling. It's been heart to heart.
You still keep me from finishing any new love I start."
Favorite Lyric:
"Goodbye, my almost lover. Goodbye, my hopeless dream.
I'm trying not to think about you. Can't you just let me be?"
58. "Aint No Way," 
Aretha Franklin
Favorite Lyric:
"How can I give you all the things I can,
if you're tying both of my hands?"
Favorite Lyric:
"In the end, it took me a dictionary to find out the meaning of unrequited,
while she was giving herself for free at a party to which I was never invited."
60. "I Want You," 
Elvis Costello
"I'm going to say it again 'til I instill it.
I know I'm going to feel this way until you kill it."
Favorite Lyric:
"Though he doesn't care, he knows that I'm there. He needs me."
Favorite Lyric:
"So take me to a barroom driver, set me on a stool.
If I can't be her man I'm damned if I'll be her fool."
Favorite Lyric:
"I can make you mine, taste your lips of wine, anytime night or day.
Only trouble is, gee whiz I'm dreamin' my life away."
Favorite Lyric:
"Love is a losing game, one I wished I never played,
oh what a mess we made."
Favorite Lyric:
"You took me riding in your rocket gave me a star, but at a half a mile from heaven you dropped me back down to this cold, cold world."
Favorite Lyric:
"I'm falling in love with someone who's not falling in love with me.
How can I escape this future that holds nothin' but misery?"
Favorite Lyric:
"I wanna show my teeth; I wanna keep you fed;
I wanna get you drunk and let it go to your head,
so I guess this means we can't be friends."
Favorite Lyric:
"I remember you telling me, that you would love me and treat me tenderly.
But all you've ever given is just plain misery."
69. "Weary Blues," 
Madeleine Peyroux
Favorite Lyric:
"Weary blues from waitin'.
Lord, I've been waitin' so long.
These blues have got me cryin'.
Oh, sweet daddy please come home."
Favorite Lyric:
"I can still feel the breeze that rustles through the trees and misty memories of days gone by."
Favorite Lyric:
"I miss the way you wanted me when I was staying just out of your reach.
Begging for the slightest touch,
you couldn't get enough."
Favorite Lyric:
"If that's the way that the world goes round,
then that's the way that it all comes down."
Favorite Lyric:
"Now knowing that you were another's bride,
I vowed I'll always be close by your side."
Favorite Lyric:
"I can't be bothered now and I can't eat or drink.
I can't remember how I used to think."