If you're new to online dating, or even if you're not, keeping your dating profile fresh is important. On an app like Bumble, where there are a lot of people to choose from, you want to stand out and show off your personality. But what exactly are people looking for when they check out your profile on Bumble? When faced with the blank screen, it can be hard to decide what to say.
To help you out, here are a handful of bumble profile examples and easy tips so you can create your own:
The descriptor
There are so many different places you could take your Bumble profile, but one surefire way to be true to who you are as a person is to rely on descriptions. That could be who you are, what you do, or what you like. Or all of the above!
Jennifer, 30
I'm a passionate, kind, and loving teacher who believes in social justice and taking Sundays off.
Shayla, 28
If you asked my friends who I am, they would give you three words: hilarious, thoughtful, and adventurous.
Heather, 29
From a young age, I've had a big heart. In my role as a nurse, I have employed that big heart and created a world of love and compassion around me.
Diane, 27
Funny, kind, grateful, humble… okay maybe not that last one. These are just a few of the words that represent who I strive to be.
Jessica, 22
I may be young, but I'm wise beyond my years. After growing up surrounded by older siblings, I have learned to be genuine, responsible, and yes, a little feisty.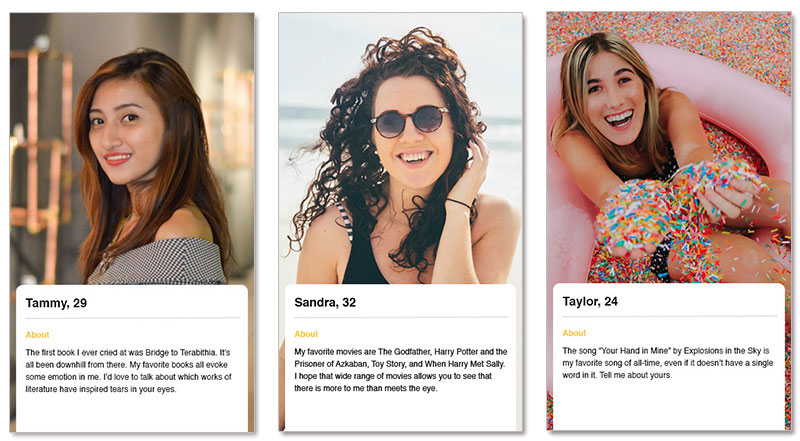 The favorite
If you don't want to use words to describe yourself, there are plenty of other ways to represent who you are in a dating profile. If you're more comfortable with "things" rather than "nouns," you may want to take the favorites route.
Sandra, 32
My favorite movies are The Godfather, Harry Potter and the Prisoner of Azkaban, Toy Story, and When Harry Met Sally. I hope that wide range of movies allows you to see that there is more to me than meets the eye.
Tammy, 29
The first book I ever cried at was Bridge to Terabithia. It's all been downhill from there. My favorite books all evoke some emotion in me. I'd love to talk about which works of literature have inspired tears in your eyes.
Taylor, 24
The song "Your Hand in Mine" by Explosions in the Sky is my favorite song of all-time, even if it doesn't have a single word in it. Tell me about yours.
Ana, 27
Give me a Parks and Recreation quote and I will give you the next line. I promise, I'll get it right.
Samantha, 32
If you need a recommendation for the best taco in town, I'm your girl. Looking for the best margarita recommendation to match my own expertise.
You can't argue with facts
It's hard to pick a favorite, but it's not hard to pick a fact. If you're the kind of person who's more comfortable speaking about yourself than about your favorite things, there's no harm in building your dating profile around that.
Kimberley, 29
I'm the oldest of six siblings and I'm close with each of them. Being a big sister has shaped who I am as a person. (Okay, maybe I'm a little bossy.)
Christina, 25
There is nothing in the world I love more than red wine. I have even started sommelier school and can't wait to learn even more. I also have a job and I like to hike, but red wine is bae.
Marie, 31
I'm a chef in a very high-scale restaurant but I still go home and make boxed macaroni and cheese from time to time. It's good to have balance.
Felicia, 30
I was born in California, I dream of living in Chicago, but I currently live right here in our lil' own town. I like to travel but I find myself drawn most of all to the quite, low traffic, peaceful area we currently call home.
Molly, 25
I have a scar on my forehead from childhood. I'm not Harry Potter… or am I?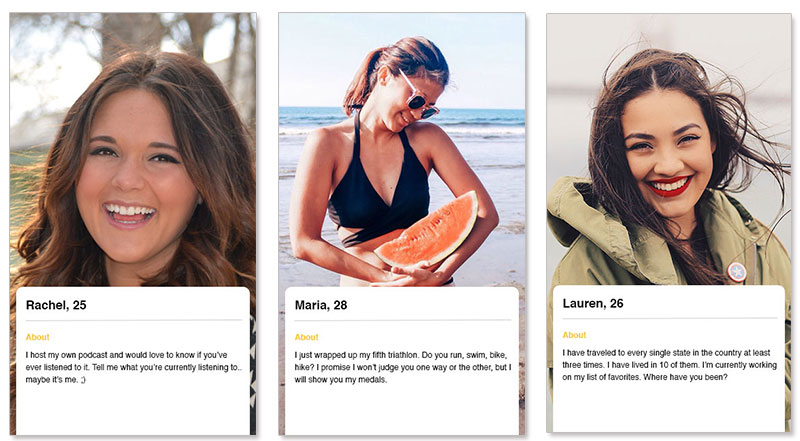 Ask a leading question
There is a beautiful in between with favorites and facts, and that usually comes out in the form of a leading question. Do you know what you're curious about? Just ask.
Lauren, 26
I have traveled to every single state in the country at least three times. I have lived in 10 of them. I'm currently working on my list of favorites. Where have you been?
Kelsey, 27
My favorite football team is the Seattle Seahawks and I know even more about their roster than most people assume. Ask me anything.
Mary, 45
I saw the movie Annie Hall in theaters ten times. Tell me about your own movie obsession.
Rachel, 25
I host my own podcast and would love to know if you've ever listened to it. Tell me what you're currently listening to.. maybe it's me. 😉
Maria, 28
I just wrapped up my fifth triathlon. Do you run, swim, bike, hike? I promise I won't judge you one way or the other, but I will show you my medals.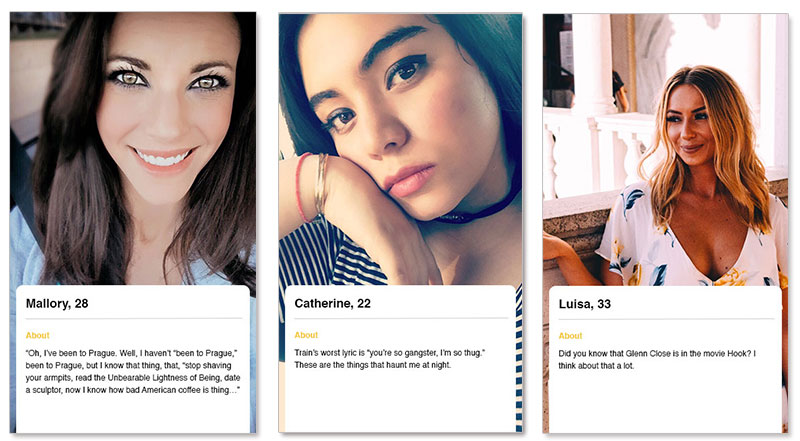 Keep it short
Some dating profiles are long and rich with content and intrigue, which is excellent. But some people aren't interested in length, both as consumers of dating profiles and as the writer of the profile. If you're more of a funny, obscure person, be true to that.
Tate, 34
Who do you think shot JR?
Leslie, 25
But honestly, whatever did happen to predictability? Does anyone have a milkman, a paper boy, or the evening TV at this point?
Luisa, 33
Did you know that Glenn Close is in the movie Hook? I think about that a lot.
Mallory, 28
"Oh, I've been to Prague. Well, I haven't "been to Prague," been to Prague, but I know that thing, that, "stop shaving your armpits, read the Unbearable Lightness of Being, date a sculptor, now I know how bad American coffee is thing…"
Catherine, 22
Train's worst lyric is "you're so gangster, I'm so thug." These are the things that haunt me at night.
Identify yourself
There are so many people who respond to identification, and we're not talking about social security numbers. Are you into astrology? Your Myers-Briggs association? Your Hogwarts house? These are great things to include in your dating profile.
Ariel, 26
Gryffindor, social media consultant, big sister, comedian. (Okay that last one isn't true.)
Jenny, 25
I'm an ENFJ who highly associates as an ENFJ. I bet I can guess yours.
Madeline, 34
I'm a Leo with an Aquarius moon rising which means I have all kinds of opinions to share.
Ann, 29
Ravenclaw, INFJ, and I even know my numerology association if you really want to get into it.
April, 32
I don't believe in astrology, but I'm a Gemini, whatever that means.